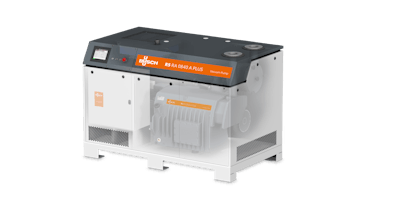 Busch Vacuum Solutions, a manufacturer of vacuum pumps, blowers, compressors, and systems, is showcasing its latest vacuum solutions for the packaging industry at PACK EXPO International. The company's expanded line of Plus intelligent vacuum pumps combine vacuum solutions with standard and predictive service plans to provide an efficient and reliable vacuum supply for its customers. The intelligent Plus vacuum technology combines proven Busch reliability with cutting-edge features ready for Industry 4.0 and new digital services called OTTO. Pump options include oil-lubricated and dry screw technology.
Busch sought to address the issue of companies not having a way to confirm that their pumps are performing properly through the addition of sensors monitoring inlet pressure, exhaust pressure, and oil temperature—in the case of the R5, as well as a user-friendly, 7-in color touchscreen HMI.
"The Plus system is our R5 products—rotary vane vacuum pumps—and our Cobra product—a screw vacuum pump—in a sound reduction enclosure directly mounted with a series of cables and sensors to monitor the pump's condition and plugged into a self-included PLC VFD to control the pump based on your actual process conditions," said Jeff Cresswell, product marketing manager for Busch Vacuum Solutions.
These pumps are end-user focused, designed to add efficiency, reduce energy costs, and track pump condition for correctional maintenance and preventative maintenance, with the possibility of predictive maintenance in order to avoid the need for correctional maintenance and reduce costs from unnecessary preventative maintenance.
Companies in this article