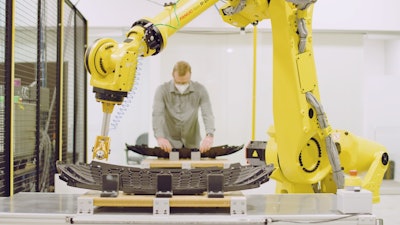 With the rise of collaborative robots (cobots) over the past decade, it looked like the robotics industry would be segmented into two divisions—one for the high-speed industrial robots with which we're all familiar and the other for cobots. Some robotic technology suppliers would, of course, offer both types of robots while others would specialize in one area or the other.
Then something interesting happened. Industrial robot suppliers began experimenting with the concept of bringing collaborative robot capabilities to industrial robots. I first saw this displayed as a concept project in a Mitsubishi Electric booth at a trade show five or six years ago. At the time, I thought this concept would proliferate quickly; however, I did not see it again until I attended the SPS (Smart Production Solutions) event in Nuremberg, Germany, in 2019. At this event, it was again at the Mitsubishi booth where I saw the technology on display. But this time it was not part of a concept display, but as part of a product introduction between Mitsubishi and Realtime Robotics.
---
---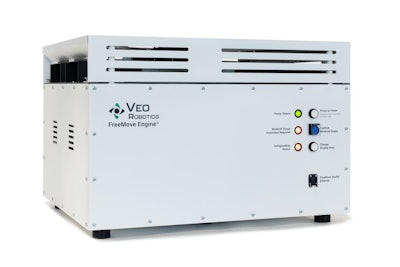 A few months later, on my last business trip before COVID-19 brought a temporary end to live industry events, I met with Veo Robotics and learned that they were devising a system that could be used to bring collaborative capabilities to any industrial robot. Veo does this with its FreeMove system, which uses multiple camera sensors and an algorithmic computing platform to transform industrial robots into cobots. Veo has relationships with ABB, Fanuc, KUKA, and Yaskawa and its system is being applied and tested in the aerospace, automotive, household appliance, and construction equipment manufacturing industries.
 A key component in the acceptance of technologies that promise to make industrial robots collaborative is overcoming the safety concerns of those who could be working in close proximity to the robots. After all, if you've ever seen an industrial robot going through its high-speed paces in a caged environment, you know you don't want to be anywhere inside that cage when the robot is operating.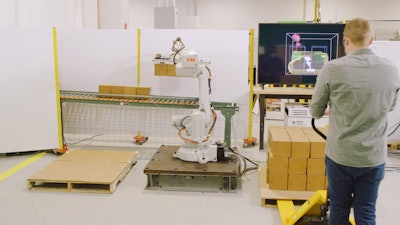 Such reservations about working so closely with industrial robots may now be on the verge of disappearing as Veo Robotics has just announced that its FreeMove system has been certified for compliance with ISO 13849 for PLd, Category 3 by TÜV Rheinland. According to TÜV, ISO 13849 addresses the safety of all system technologies including mechanical, hydraulic, and pneumatic products. Where safety functions are to be performed by safety related parts of the control system (SRP/CS), EN ISO 13849-1 can be used to show compliance with the essential health and safety regulations of the Machinery Directive 2006/42/EC.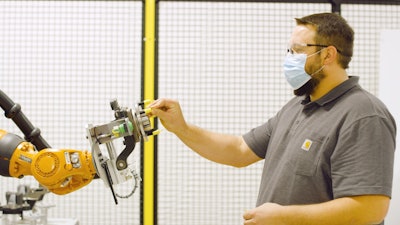 "This is a momentous accomplishment for the team and the automation industry overall," said Veo Robotics' CEO and co-founder Patrick Sobalvarro. "After spending the last four years visiting factories, working with our manufacturing customers, and building FreeMove, we are thrilled to be able to offer the fully safety-certified system." He added that FreeMove is "the only solution on the market today that implements dynamic, 3D speed and separation monitoring."
---
---
In related news, Atlanta-based Factory Automation Systems (FAS) has joined Veo's Certified Systems Integrator program. FAS will include FreeMove as part of its safety offering to customers.
Mark Ligler, vice president of FAS, said, "Veo Robotics' FreeMove is a first-of-its-kind safeguarding system that fills a need in the industrial robotics industry."
PACK EXPO Las Vegas and Healthcare Packaging EXPO (Sept. 27-29, Las Vegas Convention Center) will reunite the packaging and processing community, offering new products, technologies and solutions, while implementing up-to-date protocols for a safe and successful in-person event. Attendee registration opens in May. 
Companies in this article