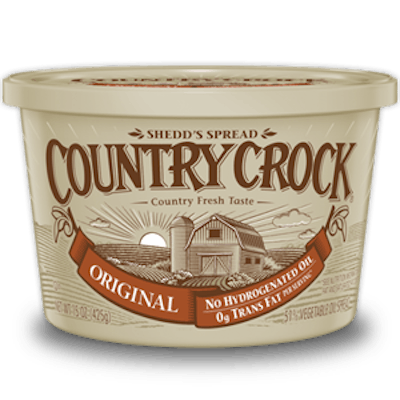 Unilever buttery spread brand Country Crock has been refreshed with new and simpler ingredients and with packaging that provides greater consumer convenience and bolsters the product's "Real Country Fresh Taste from Real Ingredients" proposition. Introduced in summer 2015, the new recipes for Original, Churn Style, and Light Country Crock varieties are made with no artificial preservatives or flavors, and contain 0g trans fat per serving.
Says Benjamin Crook, Marketing Director, Country Crock and Baking, Cooking Spreads Company, "We are continuously listening to consumers who are asking more from food brands to deliver products that they can trust and are from fewer, simpler ingredients."
Replacing the brand's round polypropylene container is a rectangular PP "Space Saver Tub" that is reusable, dishwasher-safe (in the top rack), and recyclable. The container, from a mix of proprietary suppliers, comes in three sizes: 15 oz, 30 oz, and 45 oz.
Crook says the goal of the new package was to provide consumers with greater convenience while at the same time preserving the heritage and attributes of the Country Crock brand. The container retains its taupe color but instead of direct-printed single-color graphics, it is decorated with a six-color in-mold label that features colorful imagery of a farm setting. An IML label is also used on the lid.
The brand refresh includes 20 SKUs, available in grocery stores for a suggested retail price of $2.39 to $3.79 and in mass retailers for $2.19 to $4.99, depending on size.