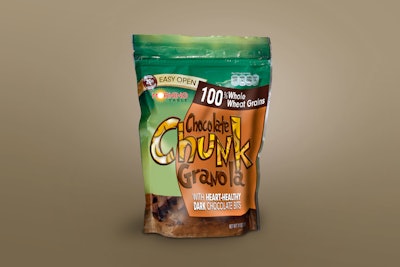 The Dow Chemical Company has created recyclable polythene-based barrier packaging using its RecycleReady Technology with RETAIN. Created through collaboration with the Sustainable Packaging Coalition (SPC), and other industry members, RecycleReady Technology with RETAIN helps converters create recyclable flexible barrier pouches and packaging. The aim of this technology is to divert packaging waste from landfills or incineration.
"RecycleReady Technology was first used for polyethylene pouches with low barrier applications, such as dry foods and frozen foods," says Stacy Fields, North American director of packaging solutions, Dow Packaging & Specialty Plastics. "Dow has continued to enhance the technology to include better barrier, better stiffness, and higher temperature tolerances to expand end-use applications."
The RETAIN polymer modifier was developed about four years ago, and was originally designed for post-industrial use at plastic film producers to recover ethylene vinyl alcohol (EVOH)-containing scrap for reuse in polyethylene films. By incorporating RETAIN compatibilizing polymer into the EVOH barrier film structure when it is made, the EVOH barrier polymer can now be dispersed into the polyethylene stream during reprocessing at a recycling facility.
"We saw the opportunity to use RETAIN upfront when the package is made so that the recycling facility does not have to worry about the presence of EVOH," says Lamy Chopin, global development leader, Dow Packaging & Specialty Package.
Chopin explains that food requiring barrier packaging—such as trail mix or granola with fruit in it—typically needs to keep aromas and flavors in or keep out oxygen. Traditionally, barrier packaging contained plastics that weren't compatible with the polyethylene recycling stream, he says.
The stand-up pouch made with RETAIN polymer modifiers is the first package of its kind with barrier film that can be recycled in a polyethylene film recycling stream, according to Dow. These recyclable flexible pouches incorporate multiple layers but use only polyethylene as the basic raw material.
RETAIN is part of the RecycleReady Technology system, which incorporates HDPE for stiffness and LLDPE to provide a good seal window. RecycleReady Technology designs are intended for store drop-off collection systems that specifically handle flexible films.
"We work with the SPC and Association of Plastic Recyclers (APR) to ensure we're enabling packaging that fits appropriate polyethylene recycling streams," says Fields. "We're also conducting commercial trials with barrier package customers and experts to move toward getting these packages on shelves by the end of 2016."
Companies in this article