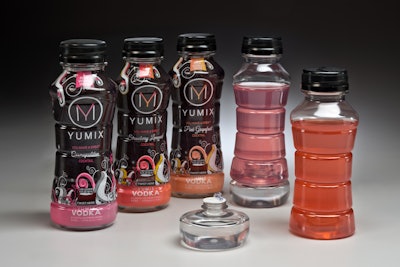 Despite the craft beer craze of the past few years, beer lost a portion of its share of U.S. alcohol revenue in 2015 to liquor for the sixth consecutive year, due in large part to a cocktail renaissance, according to data released by the Distilled Spirits Council of the U.S. The Wall Street Journal reports that total alcohol revenue for producers rose 30% over the past 10 years to $68 billion from $52.2 billion. Of that, liquor increased 40% to $24.1 billion.
Yumix, LLC is a beverage company specializing in ready-to-mix cocktails. The company has developed the Clasper bottle, engineered by Plastic Technologies, Inc. (PTI). It is a combination of two polyethylene terephthalate (PET) containers (with the bottom container snapping into the base of the larger top bottle) and a shrink label. The bottom holds 50 ml of premium alcohol and features a heat-applied aluminum-foil seal. The main bottle holds 6.5 ounces of hot-filled, shelf-stable juice and is topped by a 38 mm polypropylene closure. Shrink-label graphics include usage instructions.
"The Clasper addresses several trends, both from a packaging and consumer perspective," says Tracy Momany, vice president, product development group, PTI. "The package is portable, and PET is highly recyclable. For consumers, portability, instant gratification, responsible drinking, and food safety are all addressed."
To use, the consumer separates the shrink sleeve at the seam between the top and bottom containers, via a perforation, unsnaps the bottom container from the base of the primary bottle, removes the heat seal and closure from the bottom and top components respectively, and pours the alcohol into the juice.
Developing the Clasper was technically challenging, particularly getting the components to snap together and stay together—further complicated by the 185° F hot-fill requirements, she explains. The base of the top bottle is highly susceptible to deformation during hot fill, further complicated by the large headspace necessary to accommodate the alcohol pour. The large headspace increases the vacuum in the package significantly, putting stress on the bottle. "The head space challenge was overcome by designing the bottle to be strong enough to withstand the vacuum."
While several configurations were brainstormed, the final configuration was the most practical from both a manufacturing and consumer use standpoint, she says. Ribs, instead of vacuum panels, were used to add the necessary structural stability without compromising the aesthetics. The top and bottom bottle shapes flow together aesthetically and the graphics on the label highlight the existence of two unique packages.
The package is shelf stable for 12-18 months. Yumix began soft launch distribution in Texas this month with three flavors—strawberry lemonade with vodka, cosmopolitan with vodka and pink grapefruit with vodka. Plans are underway to grow the line with additional flavors, and national distribution is planned for next year.
Companies in this article