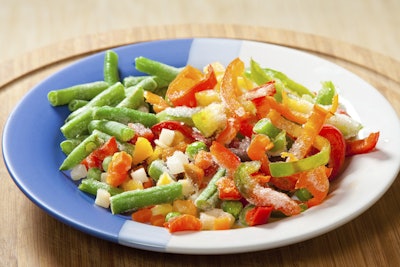 The fruits and vegetables processing market will worth $240 billion by 2019, according to a report published by Markets and Markets. That's because the key players in the market have introduced new products, expanded portfolios and invested in strategies designed to garner a larger share of the market. However, since May, these key players have also initiated a number of food recalls, possibly impacting—and reshaping—the future of the frozen vegetables processing market.
For instance, CRF Frozen Foods, Pasco, Wash., initiated the recall of all organic and traditional frozen vegetables and fruit products, thus creating a chain reaction of voluntary recalls from a number of retailers and frozen vegetable providers. CRF Frozen Foods sells vegetables at Costco, Meijer and other stores under the brand names Schwans, True Goodness by Meijer, Wellsley Farms Organic and Organic by Nature.
As a result, ConAgra Foods expanded the recall to its Watts Brothers Farms branded products distributed to Costco stores nationwide.
"The frozen vegetable recall we announced earlier this year was prompted by one of our suppliers, CRF Frozen Foods. We were notified that products supplied to us were part of a larger recall issued by that company, so we in turn, issued our own voluntary recall out of an abundance of caution," said Kristine Mulford, corporate communications manager of ConAgra Foods in an email.
Then, The Pictsweet Co., Bells, Tenn., recalled certain Kroger brand frozen vegetables, namely green beans and green peas.
Also part of the CRF recall is McCall Farms' recall of Piggly Wiggly brand frozen yellow cut corn.
NORPAC Foods, Inc., Salem, Ore., also voluntarily recalled its Natural Directions private label brand of organic mixed vegetables and organic green peas.
Meanwhile, National Frozen Foods Corp., Seattle, Wash., recalled a limited quantity of frozen green peas and frozen mixed vegetables. This resulted in Target Corp., Minneapolis, and Walmart, Bentonville, Ark., issuing warnings about its Market Pantry and Great Value private label brands, respectively, which are supplied by National Frozen Foods.
Other large retailers such as Trader Joe's and Safeway followed suit.
"In this current outbreak, Listeria monocytogenes resident in processing plants may have contributed to the contamination of the product associated with illnesses," says Evelyn Pereira, strategic communications and public engagement officer for the Office of Foods and Veterinary Medicine, U.S. Food & Drug Administration (FDA), Washington, D.C.
While most of the recalls have ended, some are still ongoing, leaving the future of the frozen vegetables category—and the processors involved—in limbo.
"We recommend that manufacturers inspect transportation vehicles for structural integrity, cleanliness, overall suitability when unloading ingredients and prior to loading finished products," says Pereira. "We also recommend that manufacturers use transportation vehicles that are adequately equipped to control and monitor the temperature of incoming ingredients and outgoing finished food products on a continuous basis."
The future of the frozen vegetables market
This outbreak is said to be caused by "resident" listeria, which establishes somewhere in the processing plant and persists over several years vs. "transient" bacteria, which just contaminates the food that moves with it through the processing system.
"The CDC [Centers for Disease Control and Prevention, Atlanta], FDA and public state health labs are now using a more advanced technology known as whole genome sequencing to identify outbreaks of listeriosis and link them to products and processors," says Dr. Michael Doyle, Regents professor of food microbiology and director for Center for Food at University of Georgia, Department of Food Science & Technology, Atlanta. "These combined activities have contributed to the uptick in frozen vegetable recalls."
And, the possible reason for the mass outbreak is due to what's considered to be an acceptable level of contamination.
"Many frozen food processors once thought that small numbers of Listeria monocytogenes in frozen foods was an acceptable level of contamination because pathogens won't grow in frozen products, and this is in line with many other countries in which there is an acceptance of 100 L. monocytogenes /gram of food, in which listeriae will not grow," says Doyle. "Recent outbreaks of listeriosis in which small numbers of Lm were found in finished frozen products have raised doubts about the acceptability of this 'tolerable limit.' Hopefully, the frozen vegetable industry has Salmonella under control, or companies out of control are highly likely to be caught."