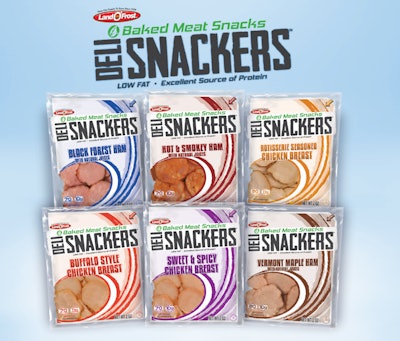 Total deli department sales in the United States in 2013 and 2014 accounted for 11.64 billion, according to Statistica, a research portal. And with more than 78% of consumers believing that protein contributes to a healthy diet (The NPD Group), Land O'Frost, Inc. is certain this is the perfect time to introduce its Deli Snackers--baked meat snacks made from oven-roasted meats in single-serve packaging designed for grab-and-go snacking.
Boyd Lee, R&D manager at Land O'Frost Inc., says that the six varieties of Deli Snackers are made with high quality, extra lean chicken breast meat or ham. "The quality of meat used is part of what sets Deli Snackers apart from other snacks in the meat case."
The company's packaging decisions were focused on catering to consumers' desire for a convenient, portable snack, he explains. Therefore, Deli Snackers are meant to be eaten directly from the package at one time, so the easy-to-open package is not resealable.
Deli Snackers are packed in a bottom film that is flexible forming and a top film that is non-flexible forming. The back of the package is a printed clear film. To ensure that the package is easy to open, Land O'Frost worked with Bemis to display an "easy peel" arrow located in the upper right corner.
The deli package is gas flushed, not vacuumed, so moisture isn't pulled from the product. "Our research found that consumers don't like to touch wet lunchmeat," says Lee. "With that insight in mind, we took great care designing the product to balance the typical meaty bite with a product surface that doesn't get too wet." Also, Deli Snackers aren't highly extended with water.
From a design perspective, the package is meant to be fun and convey a sense of movement, explains Lee. An internal graphics team designs all of Land O'Frost's packaging. The Deli Snackers front panel has a window for product visibility, because based on consumer research, consumers want to see the product through packaging.
Companies in this article