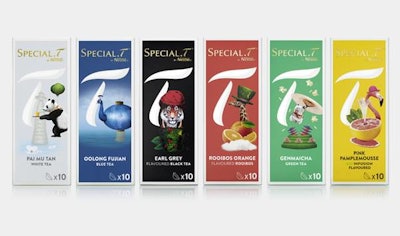 Nestlé's premium tea capsule system, SPECIAL.T, has relaunched with an iconic and disruptive new design by B&B studio.The design takes inspiration from the enchanting SPECIAL.T world, originally created for online and advertising channels, and communicates it through the new packaging.
B&B studio was tasked with creating a new look for the brand's capsules and the machine packaging to deliver SPECIAL.T tea expertise direct to the consumer with just the touch of a button.
Distilling a brand
Taking the cues from the expansive world created to support the brand online and on advertising channels, each capsule pack features a distillation of the individual tea's assets to express the flavor and benefit of each drink. According to B&B, the range is now cohesive, even though each tea has its own personality.
Images range from a tiger wearing a turban on the Earl Grey pack, to a flamingo-grapefruit hybrid for the Pink Pamplemousse infusion. The otherworldly imagery dramatizes the concept behind each tea variant, enhances tea expertise and values, and offers clear differentiation within an extensive range.
To increase brand standout and recognition, an enlarged and isolated "T" from the logo is positioned on the front of pack. The T overlaps the enchanting imagery, illustrating the connection with the brand.
The T also appears on top of the pack, replicating the machine's tea-making button, as well as on the opening mechanism to echo its one-touch system.
Communicating luxury
Foil stamping on the logo and an embossed texture reinforce the premium look. Color-coded backgrounds differentiate the ranges into types of tea: black, green, white, blue, rooibos, and fruit and herb infusions.
Tea leaves and flowers communicate the products' natural qualities, tea values, and premium feel. Opening up the pack reveals further details and provides a sense of discovery. The packaging also communicates the ease of use and drives consumers to the website, where a total of 35 SPECIAL.T varieties are available.
"The wonderful world of SPECIAL.T was ready to be captured and transformed by us into distinctive and beautiful packaging," says Shaun Bowen, Creative Partner at B&B studio. "We were able to communicate the intrinsic premium qualities of the tea brand and also bring some consistency across the various teas to express the full SPECIAL.T experience."
"B&B has helped evolve SPECIAL.T towards a more perfect and simple tea experience," says Marie-Pierre Ambroggi, Head of Marketing at Nestlé. "Clear segmentation, easier navigation, and more compact and creative boxes come together to take the brand to the next level."
The revamped SPECIAL.T packaging range launched in October 2016 throughout a number of countries across Europe and is scheduled to roll out in Japan and France in 2017.
There are also plans to launch limited-edition packs, with design by B&B studio, in the future.
Companies in this article