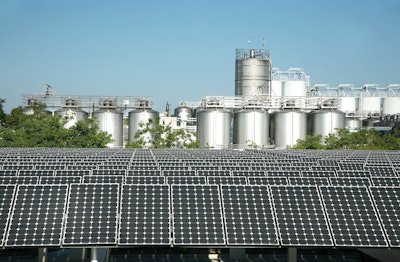 You may not taste the sun in your next Sierra Nevada beer, but it's there all the same. Nearly 11,000 solar panels are producing electricity for the Sierra Nevada Brewing Company, covering an estimated 20 percent of the brewery's power consumption in Chico, California, and helping to produce one million gallons of beer every year.
Sierra Nevada installed its first, 500-kilowatt solar panel array on top of its parking garage in 2007, followed soon after by a 1.5-megawatt installation on the brewery's rooftop. The arrays now reliably produce 2 megawatts of DC power. The move toward solar power was motivated by the state's high electricity costs, currently about 15 cents a kilowatt, and the even higher demand surcharges that can top $20 during peak periods.
"Although solar power is weather-dependent, peak performance for the solar arrays usually happens in the middle of the day, when electricity costs from utilities are highest," explains Cheri Chastain, who joined the company 10 years ago as its first sustainability manager.
This significant investment in renewable power has paid off, saving hundreds of thousands of dollars in energy costs every year. The brewery paid more for demand surcharges in 2016 than it did for electricity.
Sierra Nevada claims this is one of the largest privately owned solar arrays in North America, although possibly not one that many food and beverage processors would be willing to replicate. When the solar system was first installed, the company estimated a payback time of seven years.
The brewery augments solar power with micro-turbines powered by natural gas that generate two megawatts of power, along with a giant one megawatt-hour Tesla Powerpack battery to store power for off-peak use. The micro-turbines, which can only discharge for short durations, are used to smooth out demand spikes.
"Our overall goal has always been to sustain the company and continue to grow," says Chastain. Sustainability has been a hallmark of the Sierra Nevada Brewing Company since its founding as a small craft brewery in California's northern Sacramento Valley in 1980.
While cost containment has always been important to Sierra Nevada, the investment in solar power is also consistent with its commitment to using resources efficiently and eliminating waste. The company's goal is to leave the smallest environmental footprint possible from its operations, according to its 2015 sustainability report.
That's why sophisticated power generation and energy management represent only a small part of Sierra Nevada's multi-faceted sustainability effort, which has become a major source of attraction for new employees.
The Chico brewery was certified as a zero-waste facility in 2013, and the company's second brewery, completed in 2014 in Mills River, NC, near Asheville, was awarded Platinum LEED certification in 2016. It's the first production brewery in the US to achieve this level. The sustainability philosophy of reduce, recycle, reuse and reEarth (compost) is applied to all the resources used by the company in its operations, from spent grain to water, heat, compressed air, packaging and transportation.