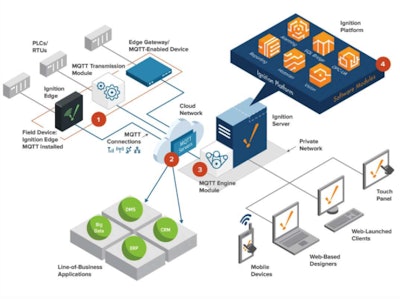 While businesses of all types make a steady march to the cloud, manufacturers are pursuing a hybrid strategy, opting to retain some foundational plant-floor systems on premise while earmarking analytics and production applications for migration to the new environment.
Similar to mainstream productivity applications, the cloud promises a host of benefits for certain manufacturing platforms. Easier collaboration across multiple plant sites, unlimited capacity and scalability—particularly for peak cycles—and, in some instances, reduced costs are the primary benefits building a case for cloud migration, experts say. At the same time, ease of deployment and ongoing maintenance of systems is another big upside given that most cloud-based systems are quicker to deploy and easier to learn, and don't require a dedicated staff or hardware resources to keep up and running.
Nevertheless, cloud adoption for manufacturing applications, though accelerating, still lags behind mainstream applications in part because of lingering concerns surrounding security, especially at the programmable logic controller (PLC) level, notes Travis Cox, co-director of sales engineering at Inductive Automation, a provider of web-based industrial automation software. "There is still skepticism about moving to the cloud in control systems, in particular, primarily due to security reasons," he says, explaining that many legacy PLCs don't have the real estate or processing horsepower to accommodate built-in security capabilities, which increases their vulnerability.
Although the cloud paradigm delivers clear advantages for systems like enterprise resource planning (ERP), manufacturing execution systems (MES) and analytics, it doesn't make sense for many traditional plant-floor systems, including control systems and PLCs, experts say. "I don't think you're ever going to see a full migration to the cloud for all plant-floor technologies," says Matt Newton, director of technical marketing at Opto 22. "There's always going to be a need for local monitoring and control—a lot of these applications are real time or mission control and thus can't rely on decision-making in the cloud for everything."
Consider, for example, the ramifications of a cloud-based ERP system going offline because of an Internet connectivity failure. ERP downtime might translate into lost orders or an inability to get up-to-date reporting on consumption or production status for a time, but many companies have manual workarounds in place to compensate for such disruptions. However, that kind of resiliency is much more difficult to replicate with supervisory control and data acquisition (SCADA) or similar mission-critical plant-floor systems, which are far more dependent on a real-time response, according to Matt Wells, general manager for automation software at GE Digital.
"The cloud doesn't have the level of reliability customers expect out of shop-floor systems," he explains. "If you move SCADA to the cloud and you lose a connection, the [production] line literally stops and you are dead in the water, losing millions of dollars a minute. There is no way to recover the serious cost impact."
What works, what doesn't
Rockwell Automation is eyeing a hybrid approach for its strategy, moving the manufacturing intelligence and production management components of its FactoryTalk suite to the cloud to benefit from increased processing power and scalability, says Todd Montpas, business manager in Rockwell's Information Solutions Group. Though quality systems or warehouse and inventory management applications can run effectively in the cloud, it's a different story for overall equipment effectiveness (OEE) applications related to specific plant-floor equipment. These scenarios require edge-based computing capacity to close the loop on analytics, he says.
"Some data collection and data orchestration services need to remain at the plant level to provide instant feedback to plant personnel," Montpas says, explaining that OEE cycle time on a machine is 20-45 seconds, so there needs to be a service or piece of software that sits on premise to handle that data collection. "We still need to be able to close the loop at the automation layer or edge devices for things that are time-critical."
Among its customer base, Beckhoff is seeing increased demand for cloud-based industrial automation applications, in part driven by the rise of the Industrial Internet of Things (IIoT), says Daymon Thompson, the company's automation specialist for North America. Instead of doing a wholesale migration, most customers are opting for the cloud to benefit new projects, particularly in the area of data dashboards and analytics, where it's possible to leverage new machine learning capabilities in the cloud to crunch the deluge of data collected by IIoT for business insights, he explains. Although its TwinCAT analytics capabilities can benefit from the cloud's ability to provide anytime, anywhere data access (real-time updates regarding machine status or problems to a plant worker's mobile device, for example), it's a different story for its PLC programming environment, which will remain an on-premise application, he explains.
Flexible collaboration and a single source of design data are the biggest benefits of a cloud-based CAD platform like Onshape. Source: Onshape
Outside of automation, design tools and production applications are starting to gain traction in the cloud, thanks to advances in compute power, particularly in the area of sophisticated graphics processing. Consider Onshape, a web-based CAD collaboration platform, which offers design engineers and collaborators a Google Docs-like environment for working on a single source of design data that is instantly accessible from any device while allowing teams to work together simultaneously in lieu of the traditional serial fashion, according to Darren Henry, vice president of product marketing at Onshape.
"What [Onshape] does is allow manufacturers to design and vet ideas very quickly with customers and suppliers," Henry explains. "In the past, there was a lot of back and forth with copies of files—we can help people become more interactive in the design process and, in doing so, help them build and design things much faster."
Push for multi-plant best practices
Improved collaboration is important for dispersed design teams as well as for manufacturing organizations with multiple plants or global divisions, notes Ryan McMahon, senior product line manager for smart production at Autodesk. A cloud-based system generally scales much easier than an on-premise one, which requires manufacturers to physically replicate their systems in disparate locations to extend capabilities across multiple sites, he contends. Moreover, the ability to standardize cloud-based systems across multiple sites creates better production awareness and makes companies more agile, he explains. "It enables them to be more responsive to changes in production, product variations and supply chain, and helps them improve resource utilization and OEE," he adds.
Other trends like an increasingly distributed workforce as well as a desire to formalize and promote best practices across multiple plants are other factors promoting more widespread cloud deployment. Instead of having to staff each plant individually with a full range of expertise, cloud-based systems enable multiple sites to easily share a collective repository of intelligence and promote efficient sharing of limited IT resources.
"This lets you deploy new manufacturing practices across multiple factories…instead of having to go into each factory with a team to make changes for that business process," says Eric Green, vice president, Delmia, at Dassault Systèmes. "Companies are using cloud solutions as a way to accelerate return on investment because of shorter time to deployment."
For Traeger, the transition from an on-premise ERP system to a cloud-based offering from Epicor enabled the manufacturer of wood pellet grills to scale the number of users working with the system while taking advantage of more sophisticated capabilities without having to bring in additional IT personnel to deploy and manage the system, according to Ryan Newman, the company's vice president. Given the company's fast growth and its need to scale up capacity to accommodate peak buying cycles in the critical March and April buying season, a cloud ERP platform fit the bill. "Scalability is key for us," he says. "We don't have the resources, bandwidth or expertise to host an ERP platform of this scale with our existing resources." Traeger has 200 employees, 70 of whom are Epicor ERP users, and an internal IT team of 11 people to support them.
Sanders & Morley Candy Makers also sees huge ROI advantages with cloud-based ERP, in part because of the ability to fast track deployment and offload the heavy lifting of building out hardware infrastructure and software maintenance to experts instead of internal IT staffers. "Sanders has been able to process and do significantly more with little to no additional staff," says Kevin Jablonski, the company's vice president of operations/technology. "We've added equipment and production lines that have tripled our output within a couple of years; we've [also] managed inventory challenges in multiple buildings with ease…and the sales team has more confidence to make the sale."
As ERP and other manufacturing platforms make the crossover to the cloud, there will be a greater need for OT and IT collaboration in areas like mapping out architecture, formalizing security and data governance policies, and identifying possible vendors. "It encourages collaboration that didn't exist before," Beckhoff's Thompson notes. "As the lines [between IT and OT] become more blurred, it's clear that the companies getting ahead will foster this cooperation as the [groups] share common goals."
Inductive Automation sees its MQTT-based Ignition IIoT platform as a cloud-based data collection hub for on-premise controls systems. Source: Inductive Automation

Opto 22 has released the Node-RED visual development environment in its groov appliance to foster development of cloud-based IoT applications. Source: Opto 22
Companies in this article