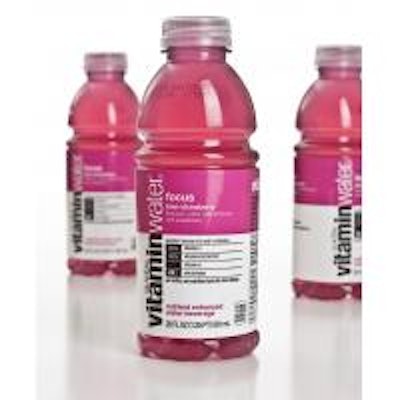 In redesigning the 20-oz. bottle for its Vitaminwater® brand in 2016, The Coca-Cola Co. achieved a 15 percent reduction in weight from its previous packaging, along with better stacking strength, improved label application, and stronger packaging performance.
The new PET bottle incorporates two Amcor innovations for hot-fill containers: PowerStrap™ to strengthen the bottle's structure and increase absorption during filling, and ActiveHinge™, which further improves rigidity.
Explains Dan Witham, director of product development for Amcor Rigid Plastics North America Beverage, typically hot-fill bottles incorporate panels in the label area to preserve vacuum. Amcor has taken a different approach. "With PowerStrap, we actually absorb the vacuum through the base," he says. "We are able to get the base to dynamically move and absorb vacuum, which frees up some design space in the label area."

With early-generation hot-fill bottles, Witham says, weight and structure are applied to the base to make the geometry rigid enough to resist deforming during the hot-fill process. "We focused on geometry and a lighter weight in the base specifically, so it's flexible; it's allowed to move and absorb the vacuum after the product is sealed," he explains.

As its name suggests, PowerStrap technology consists of "straps" designed into the bottle that go through the heel and roll into the base to allow it to flex upward.

Amcor's ActiveHinge technology is incorporated into the sidewall of the bottle, improving rigidity, enhancing label aesthetics, and making label application a smoother process. ActiveHinge comprises horizontal ribs in the label area that stiffen the hoop structure of the bottle. In contrast, early-generation hot-fill bottles employ six vertical vacuum panels in the label area that create recesses in the bottle, along with horizontal columns on the top and bottom that support the label. "Getting the label to be nice and smooth all the way around the bottle when you only have six points of contact is a challenge," says Witham. "Sometimes you have to run the labeler a bit slower to apply the label effectively and accurately. ActiveHinge provides a stronger structure behind the label that allows the bottle to be labeled faster and more efficiently."

Applying labels over the ActiveHinge ribs also results in a cleaner, smoother appearance in the label area and eliminates the "crinkly feel" that comes with labeling over vacuum panels.

"ActiveHinge also absorbs a bit of vacuum," says Witham. "As the bottle cools, the hinge compresses and absorbs some vacuum. ActiveHinge also improves the top-load capability. As the ribs flex, the hydraulic pressure within the container increases, which increases the top-load performance of the filled container."
The lightweight 20-oz. Vitaminwater bottle with PowerStrap and ActiveHinge technologies was honored with a Silver Award in the 2017 DuPont Awards for Packaging Innovation.
Companies in this article