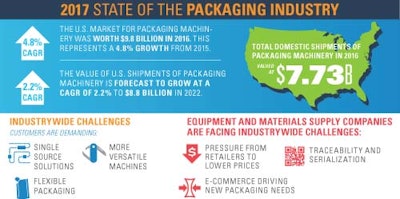 The U.S. packaging machinery industry is as robust as ever. It grew 4.8 percent from 2015 to 2016, with a total market value of $9.8 billion, according to the 2017 State of the Industry - U.S. Packaging Machinery Report from PMMI, The Association for Packaging and Processing Technologies.
The report finds that the value of U.S. domestic shipments of packaging machinery was worth about $7.73 billion in 2016. It forecasts a compound annual growth rate (CAGR) of 2.2 percent to $8.8 billion in 2022.
While packaging machinery shipments in pharmaceuticals are forecasted to grow the fastest of all sectors at a CAGR of 3.6 percent from 2016 to 2022, the food and beverage industry follows close behind with a forecasted CAGR of 2.3 percent.
The report credits demands from CPGs for pushing the packaging machinery industry toward unprecedented heights. For instance, more end users want a complete packaging line that incorporates numerous functions, such as filling, closing, labeling and wrapping, from a single vendor. Yet there is also a growing demand for more modular machines in order to accommodate a variety of materials and packaging styles as well as growth of SKUs.
Another factor contributing to the growth of packaging machinery is the Food Safety Modernization Act (FSMA), according to the report. FSMA requires food and beverage companies to identify the immediate supplier and recipient (other than retailers to consumers) of a product. As a result, food and beverage companies are investing in equipment that can trace products throughout the supply chain.
The rise of e-commerce is also affecting the packaging machinery industry, according to the report. Because e-commerce has increased touchpoints with consumers, packaging and the supply chain have to follow suit.
In addition, the report points to sustainability as another reason driving growth in the packaging machinery industry. Social, tax and regulatory pressures are pushing companies to optimize their machinery to be more eco-friendly. As result, companies are seeking equipment that reduces carbon footprint, uses recycled materials and reduces the amount of materials in packaging.
To read the 2017 State of the Industry – U.S. Packaging Machinery Report, please visit www.pmmi.org/business-intelligence.
Companies in this article