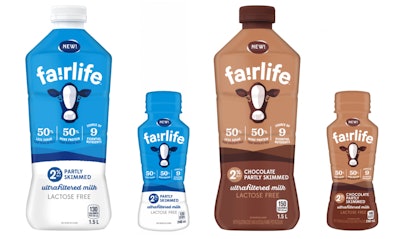 Coca-Cola Canada announced an $85M CAD investment to build a new production facility in Peterborough, Ontario. The facility will provide new production capabilities starting with fairlife Ultrafiltered Milk, a lactose free milk containing nine essential nutrients, with 50 percent more protein and 50 percent less sugar than traditional milk. Working closely with Dairy Farmers of Ontario, Canada will be the first international market for fairlife products.
"We couldn't be more excited to continue the fairlife journey with our forthcoming expansion into Canada," says Tim Doelman, chief operating officer of fairlife. "We're continuing to experience tremendous growth as more and more people are becoming dedicated fans of our rich tasting and nutritious milk, and we're confident that Canadians are going to love it as well."
The new facility, scheduled to begin operations in the first quarter of 2020, will produce fairlife Ultrafiltered Milk in Fat Free, 2% White, 2% Chocolate and Whole (3.25%) White in 1.5 L PET bottles; and 2% White and 2% Chocolate in 240 mL PET bottles.
"This announcement is a significant step in our journey to be a total beverage company. We are listening to consumers and evolving our business strategy to respond," says Shane Grant, president of the Canadian business unit of The Coca-Cola Company. "We have launched an unprecedented number of new products into the Canadian market over the last 18 months including smaller package formats and new brands, such as Gold Peak, smartwater sparkling, Glaceau fruitwater, vitaminwater active, Peace Tea, and Powerade Zero. Adding fairlife Ultrafiltered Milk to our portfolio means we can offer Canadians more of what they are looking for – products with less sugar, more functional benefits and more natural ingredients."
The new facility will create 35 jobs and will drive incremental benefits within the economy, from the development and construction of the facility to the ongoing resources and suppliers needed to support daily operations. The plant will be supplied with milk from local dairy farmers in Ontario and will bring new innovation to the Canadian dairy industry.
"Dairy farmers in Ontario look forward to working with processors, such as Coca-Cola Canada and fairlife, to bring further innovation to our growing Canadian dairy industry and are excited at the opportunity fairlife presents to expand the dairy category and offer more variety to consumers," says Graham Lloyd, Dairy Farmers of Ontario general manager and chief executive officer.