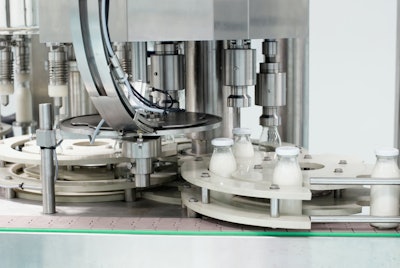 The value of the dairy machinery market is estimated to have been $0.6 billion in 2016 in the United States; IHS Market forecasts it to grow with 4.0% CAGR from 2016 to 2021.
The dairy processing machinery market is experiencing major changes because of technological advances plus tightening of hygienic and environmental regulations. Manufacturers of dairy processing machinery are now focusing on developing more reliable and efficient machinery designs, providing extensive distribution facilities and effective services. With the increasing demand for milk in cream, milk powder, cheese, and yogurt, dairy processing machinery is witnessing a strong growth in the sales of membrane filters, pasteurizers, separators, dryers, homogenizers, and evaporator equipment.
With the rising consumption of processed milk products in the US market, the demand for pasteurizer machineries are increasing as they are used for making the milk product safe and extend its shelf life. Membrane filtrations are also used for concentrating processed milk before transportation to reduce carbohydrate content in the milk, and help remove bacteria during the production process.
Consumers are increasingly avoiding trans fats and changing to food that contains more natural ingredients and is high in other fats such as natural oils, nuts, and organic dairy products. With the shift in consumer demands from processed foods to healthier options, manufacturers have the opportunity to improve their brand perception and to tailor their products or introduce new ones.
The requirement for low-fat dairy products and organic and nutrient fortified dairy food has spurred growth in fortified dairy products. With this increase in demand, the acquisition of automated dairy processing machinery such as dryers, evaporators, and ultra-filtration processing machineries is promoting market growth.
The consumption of cheese in the US market has doubled over the last few years, and processing large volumes of milk into cheese has imposed several changes in design, vat size, and standardization of milk. Also, the demand for specialty cheese made from goat, sheep, and organic milks have also increased. With the advances in genetics of microorganisms, both the use of fermentation-produced chymosin and starter bacteria with improved resistance to bacteriophage infection, have increased.
High-pressure processing (HPP) has become a point of increased focus in recent years, because of its potential to render microorganisms and autolytic enzymes inactive at low temperature, thus extending the shelf life of food products. Although thermal pasteurization technology remains a core technology in the food industry, it may affect the appearance, flavor, and nutritional value of foods, and does not necessarily meet the demand of modern society for natural, fresh, and aesthetically appealing foods. HPP and ultra-high-pressure processing (UHP) are alternatives to high-temperature processing; they apply high pressure to products that can reach 100 thousand pounds per square inch (psi)--over 6.8 thousand times greater than ambient atmospheric pressure at sea level.
The uptake of this technique is also growing; unlike applying heat, it has little effect on enzymes and biochemical activity, which helps to preserve original product quality. As with many ESL products, HPP and UHP products must be distributed chilled, as microorganisms are not eliminated by heat treatment.
Source: PMMI Business Intelligence, "2018 Food and Beverage Processing Machinery Report."
Download your FREE executive summary or the full report here.
To see other food and beverage market deep dives click here.