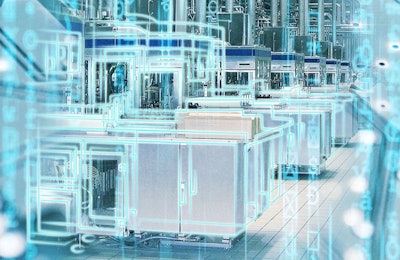 There are industry "trends," such as the digitalization discussions that are generating curiosity at manufacturing companies, and then there are industry "movements" in which there is motion forward, in the form of investments, in order to change a business model. To transition from just watching a trend to actually making a move, there must be trailblazers—those that are actively exploring new territory and paving a path for others to follow.
Leading the effort of digital transformation in the food and beverage OEM world are two equipment system providers in the aseptic packaging and filling segment. Tetra Pak and SIG have made technology investments in the areas of the Industrial Internet of Things (IIoT), the cloud and predictive applications to name a few, combining the stack of technologies to create Industry 4.0 offerings.
The goal in this "Packaging 4.0" era is to build intelligent systems, services and supply chains that will make the OEMs, and their manufacturing customers, more competitive. Partners, however, are the key to success in this pioneering phase of transition.
Tetra Pak, which unveiled its predictive maintenance condition monitoring service and HoloLens mixed reality headsets at ProFood Tech last year, has established a strong partnership with Microsoft, leveraging the Azure cloud platform to power its Industry 4.0 initiatives.
This year, SIG announced an exclusive partnership with GE Digital, using GE's Predix Asset Performance Management (APM) and ServiceMax applications to build an end-to-end digital platform that will deliver data-driven intelligence to customers.
While the two equipment suppliers take different approaches, the goal is the same: to increase machine uptime and workforce productivity.
"SIG is trying to evolve and expand beyond just making great equipment for customers," says Scott Berg, CEO of ServiceMax, an operating unit of GE Digital. "There's only so much a company can do to compete on functionality and price. So the move is toward transforming the outcome. It's the ability to guarantee end users that something is going to work."
Ensuring that assets will be as operational and efficient as possible is an important value proposition for the food and beverage industry as it faces supply chain complexities and ever-shorter production cycles. These dynamics create a need for technologies and teams that can quickly identify, predict and act on changing consumer and market demands.
The SIG strategy
Phase one of the SIG/GE Digital partnership, announced in May (following an announcement between SIG and ProLeiT earlier this year), begins immediately with a configuration phase in which APM and ServiceMax are coupled with SIG packaging domain expertise. A pilot phase will follow in the second half of this year, during which SIG will roll out an integrated APM and ServiceMax offering at two large customers in two different regions. Next year, SIG will make the new offering available to full-service customers with new service contracts that include subscription and performance-based service as part of a closed-loop service agreement that harnesses predictive analytics.
"The partnership will also involve the deployment of GE Digital's APM and ServiceMax applications and digital twins across SIG plants worldwide," says Christian Alt, director of digital transformation at SIG. It will also impact SIG's "Connected Pack" solutions, which are unique QR coding that connect raw material sources, suppliers, manufacturers, retailers and consumers with the Predix cloud platform. This provides real-time visibility through the entire supply chain, as every step becomes easily traceable. "We will also be collaborating on innovative solutions such as 3D printed metal parts with GE Additive for R&D, assembly, system maintenance and global service."
The partnership also addresses the "people" aspect. Specifically, the ServiceMax products can capture the activity of equipment technicians in the field and feed it back to the maintenance model. The goal is to address the mean time-to-repair by measuring the efficiency of the actions taken by technicians.
According to Berg, there are subtle differences in the things people do that impact machinery. "Why do some technician's actions lead to the need to replace an adjacent part in the machine? And does that impact the uptime of the machine?" The ability to capture what was done in the field as part of the same machine maintenance model is something that didn't exist before, he says.
The Tetra Pak strategy
Tetra Pak, while a bit ahead of SIG in its Industry 4.0 efforts, is using this time to educate its customers and other OEMs. The company recently released a whitepaper called "Industry 4.0 – Opening a Door to New Opportunities for the Food and Beverage Industry," designed to help manufacturers—and other OEMs—understand the opportunities ahead.
The whitepaper states: "Industry 4.0 is important because it will enable—and require—food and beverage manufacturers to take a new approach towards business: one that involves greater imagination in terms of successfully envisaging the future, greater integration of processes, and a greater need for clarity around outcomes and how a firm is going to achieve them."
For example, Tetra Pak set out to rethink the way it does business in a digital world. Now, filling lines that are connected to the Microsoft Azure cloud can send information to Tetra Pak's Performance Management Center. Here, experts analyze the data, cross-reference data patterns against thousands of other connected lines and make recommendations to improve productivity and eliminate unscheduled downtime. When a problem is detected, the Performance Management Center sends alerts to technicians in the field who can collaborate with customers to schedule maintenance.
These "connected" service technicians carry smartphones with apps that provide access to service manuals, checklists, problem-solving methodology and a global issue database. If they need help while onsite, technicians or machine operators can put on the HoloLens augmented reality goggles to allow remote Tetra Pak specialists to see what the onsite person is experiencing in real-time, and instruct them on steps to repair equipment or automation systems. These same tools can be used for virtual training enabling operators to use simulation models to learn at their own pace.
"Tetra Pak is going through its own digital transformation and looking toward the Industry 4.0 stack of technology to generate more value for our customers," says Alexander Bromage, food safety and quality services business manager at Tetra Pak. "We see advantages inside Tetra Pak that must translate to our customers, and we want customers to realize the advantages."
The OEM advantage
The challenge right now is not the technology, but the mindset. But as more companies move to the cloud and understand that IIoT and cloud technology is mature and secure, the barriers will be removed and the industry will be on its way to a complete "movement."
Bromage wants other OEMs—of all sizes—to understand the advantages and take action, too. "Part of the reason we did the whitepaper and are conducting webinars is to share our thinking," he says. "It is not just to promote customers to take action in this area, but also OEMs, because working on this is good for all of us. And if an OEM wants to understand it more, they can come to us and we can have a discussion about it. Maybe there will even be mutual benefits for everyone there."
After all, as both companies noted, it's the partnerships that will be responsible for a successful shift to Industry 4.0 in the food and beverage industry.
Companies in this article