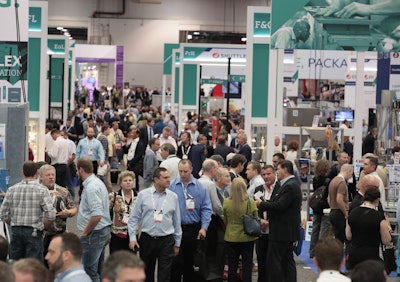 The largest and most comprehensive processing and packaging convention in North America is coming back to Chicago. Produced by PMMI, The Association for Packaging and Processing Technologies, PACK EXPO International 2018 will take place Oct. 14-17 at McCormick Place, covering the emerging trends and innovative technologies that will help food and beverage manufacturers achieve operational excellence and remain competitive and nimble to meet consumer demands for convenience, flexibility and personalization in their rapidly changing markets.
More than 50,000 packaging and manufacturing professionals are expected to attend PACK EXPO International, which is co-located with Healthcare Packaging EXPO. From plant managers to quality control experts to supply chain specialists to packaging designers, attendees will get the chance to check out over 2,500 exhibitor booths, attend free educational seminars and network with their peers.
Top-tier suppliers from around the world will showcase best-in-class packaging and processing solutions, including inventive materials and containers, advanced manufacturing equipment, cutting-edge machinery systems and process controls, sophisticated robotics, and supply chain enhancements. Many of these exhibitors will feature full-scale equipment in action and product demonstrations at their booths to help attendees understand the products and make better purchasing decisions.
Attendees will be able to connect with exhibitors like Harford Control, an automation company that supplies a suite of modular software products to help food and beverage processors with lean manufacturing. Piab, a supplier of industrial vacuum technology, will be on hand to showcase how its Kenos gripper can be used with a cobot to grip a variety of products. For attendees interested in capitalizing on the healthy eating trend, Clextral will feature its twin screw extruders, which transform plant protein mixtures into meat, seafood and poultry analogs for market-ready entrées. Packaging exhibitors will include Triangle Package Machinery Company, which will demonstrate how its vertical form/fill/seal bagging machine allows manufacturers to run multiple package styles on the same machine. Attendees will even be able to seek advice from architecture and engineering firms like CRB about how to best renovate or construct food and beverage plants.
Beyond the show floor, attendees will also get the chance to explore the industry trends that are affecting their operations at the Innovation Stage. These free, 30-minute educational seminars will cover topics such as food safety technology, smart packaging, sustainability, remote monitoring, the Internet of Things (IoT) and high pressure processing.
A new addition to PACK EXPO International this year is the PACKage Printing Pavilion, which will highlight advancements in digital printing for folding cartons, flexibles and corrugated packaging. This pavilion will focus on technology and applications for short-run, on-demand, cost-effective, variable data and personalized packaging.
PACK EXPO International will include four other pavilions. The Containers and Materials Pavilion will inspire attendees with groundbreaking and sustainable packaging made from paperboard, glass, metal and plastics. The pavilion will also feature the Showcase of Packaging Innovations, which will display top packaging designs from around the globe.
Candy and snack producers should head to the Confectionery Pavilion to stay up to date on the latest trends and technologies shaping their industry, including aeration, enrobing, cluster production and easy-open packaging.
At the Reusable Packaging Pavilion, attendees will learn how they can incorporate reusable products and services in their companies and increase sustainability in their supply chains.
For those who want to take a break from the action on the show floor, PACK EXPO International has industry-specific lounges. The Snack Break Lounge, The Beverage Cooler Lounge and The Candy Bar Lounge are comfortable venues to make connections and network or to take a break and relax.
Attendees have another chance to unwind at PACK gives BACK. The event will feature a networking reception and a performance by comedian Sebastian Maniscalco on Oct. 15. Tickets are $75 each and include beer, wine and light hors d'oeuvres. Part of the proceeds will go toward the PACK EXPO Scholarship program, which awards grants to U.S. and Canadian colleges with packaging and processing programs.
With all of the events and programs at PACK EXPO International, attendees should download the free PACK EXPO International app to maximize their time at the show. The app allows attendees to use the interactive floor plan to navigate the show floor, get real-time notifications from exhibitors, search exhibitors and sessions, access the show schedule, and receive the latest updates about the show. The "My Show" tool lets attendees create a personalized agenda of the events and sessions they want to attend and booths they want to visit. The app will be available to download in August from the App Store and Google Play.
Registration is $30 until Sept. 28. That includes access to both PACK EXPO International and Healthcare Packaging EXPO. After Sept. 28, the registration price increases to $100. For more information and to register online, please visit www.packexpointernational.com.
Companies in this article