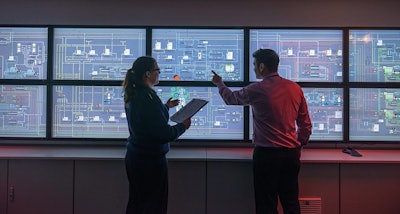 Much of the news coming down the pipe these days about cybersecurity — other than the news about the cyber attacks themselves — is of a collaborative nature. More companies throughout the cybersecurity ecosystem are finding a need to join forces to help industry fight off the bad actors.
Although on the surface a recent announcement about Atos and Nozomi Networks teaming up looks to be more of the same — a classic cooperation between an IT heavy hitter and a cybersecurity company focused specifically on the industrial control space — the partnership highlights an even more important development. These two players are bringing together data analysis capabilities not only for real-time cybersecurity protection, but to provide the predictive maintenance and operational analysis that the increased visibility makes possible as well.
This is of particular importance for manufacturing personnel struggling to make an argument for the budgets needed to protect the operations. Given a choice between investing in what is essentially an insurance policy vs. investing in innovations that can move the business forward, executives tend to lean in the latter direction.
"Cybersecurity investments are always difficult because they don't bring in top-line revenue," noted Mazi Fayazfar, chief technology officer for telecom, media and utilities at Atos North America. "When you're going to your board of directors, and you're trying to justify these investments, the way you justify those investments have to be fear-based, they have to be risk-based. They have to determine how much of the total money that I have to spend on moving this business forward do I want to invest in an insurance policy? Or how much of that dollar, that share of wallet, do I get to spend moving my business forward—innovating and driving new experiences for my customer?"
As a result, too many manufacturers are impacted by not spending the money necessary to mitigate the risks. "We really see there's a value here in being able to invest in a toolset that gives you the ability to sleep at night, but isn't singularly a liability, but it is also an asset for you," Fayazfar said. "And being able to turn that investment into dollars that move your business forward while also helping to secure infrastructure."
Atos Codex is Atos' brand umbrella for everything in its analytics portfolio—from consulting on outcome-based projects to a high-performance computing platform. The company is able to analyze structured and unstructured data from different sources, such as operational networks, and provides robust insight to users across the business.
Nozomi's key strengths in this partnership are its knowledge of the manufacturing space and its focus on cybersecurity for industrial control systems (ICSs). Its fourth-generation SCADAguardian uses artificial intelligence (AI) and machine learning to provide real-time ICS monitoring, industrial network visualization, hybrid ICS threat and anomaly detection, asset inventory and vulnerability assessment.
Although SCADAguardian is focused on cybersecurity concerns, that data crosses over well to predictive maintenance, Fayazfar noted. "A lot of the machine learning and the artificial intelligence of what Nozomi does is focused on building a baseline of what that data looks like, what values happened when and with what consistency does that continue to happen," he said. "And it's really that base of knowledge that gives you a baseline in order to determine deviation."
Sometimes that deviation is caused by malicious intent, but other times there is no malicious intent involved. "Sometimes that deviation is a function of degradation of components over time—the pitting of a contactor, the water entering into hydraulic lines and seeing braking systems start to slow down, or motors starting to fade or the brushes starting to fade and we're starting to see a degrade in performance," Fayazfar said. "But the metrics, if you're measuring to determine those values coming back, are the same whether you're looking for a deviation from a malicious or a non-malicious event."
The joint solution from Nozomi and Atos will help customers decrease total cost of ownership while implementing both analytics and cybersecurity within industrial networks. "By implementing these tools, you get all of that visibility that you would otherwise be using strictly to secure you in an insurance context," Fayazfar said. "Why not leverage that investment you're making to get real results today that can improve your business, extend your assets or give you potential upside if you know how to monetize it?"
At the Disney Data Analytics Conference next week in Orlando, Florida, Atos and Nozomi will make a joint presentation, "Deep Neural Networks: Applications in Operational Technology." Tim Oates, principal data scientist for Atos, will educate the audience about different types of AI, reinforced learning, machine learning, supervised and unsupervised learning techniques, and neural networks. The second half of the presentation will have Nozomi co-founders Andrea Carcano and Moreno Carullo explaining the practical application of those AI techniques in an ICS environment. The two companies will also demo their joint solutions for the first time publicly at the Atos booth #208 during the conference.
Companies in this article