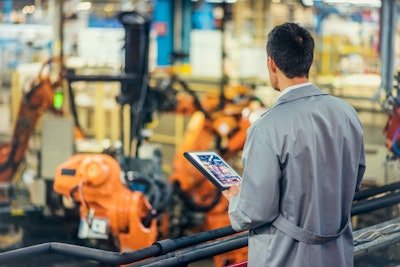 Machine safety is necessary for the manufacturing environment, but historically it has been a bit of a drag on business. Manufacturers are required to invest money in safety systems to protect people and the environment, but those same systems may limit or restrict the process. So it's a cost for new equipment or technology and it's a cost to production as it may slow down the operation. On top of that, the people who speak the machine's language — meaning the Baby Boomers who can put their hand on a valve to hear it "talk" to them — are retiring, leaving inexperienced operators to oversee the assets.
On the surface, safety has the reputation of being a costly necessity that is perhaps a bit of a nuisance. But there's good news on the horizon, as the digitization of data can turn safety systems into intelligent assets that feed into the bottom line of the business.
For some time, Schneider Electric has been talking about the concept of "roll-up accounting," in which calculations are done for each value point in the process in order to understand the real-time business impact. Products from the company's "profitable plant" concept were introduced over the last few years as part of its EcoStruxure Industrial Internet of Things (IIoT) architecture. Specifically, Schneider's Profit Advisor, a technology jointly developed with Seeq, a provider of big data analytics for process historians, provides measurable results by connecting intelligent edge assets to the cloud and applying real-time accounting that is linked to the historian.
There is also the EcoStruxure Control Advisor, a decision-support tool that provides plant personnel with real-time operating data and predictive analytics to enable the adjustment of control loops across multiple plants. And the EcoStruxure Maintenance Advisor, an IIoT platform for condition-based maintenance and decision support, serving as an early warning of impending failures on assets.
The next phase is the Safety Advisor product, Schneider Electric officials recently told me. And, it could be the most important element in the intelligent asset portfolio, as safety systems provide the ultimate protection. "It doesn't matter how efficient a plant is or how far you push the assets if an explosion happens," said Tom Clary, Schneider Electric's director of global business communications.
In October, at the Schneider Electric Triconex User Group conference, the company outlined advances to its Tricon CX, a smaller, more powerful version of the safety system which is an important piece of the 'profitable safety' puzzle, said Steve Elliott, Schneider's senior director of marketing for process automation. Tricon CX v. 11.4 has fault-tolerant 1GB I/O and fiber-optic adapters, a flexible architecture that can be engineered and configured faster, including the ability to co-exist with existing architectural constraints — as in legacy project files — and the addition of cybersecurity learnings to understand threats.
Security and safety are closely linked, especially as safety instrumentation is connected to other elements of an IIoT infrastructure in a digitized environment. The ability to digitize baseline data and connect it to the historian — and ultimately the cloud — can pull data from multiple safety instrumented function (SIF) managers to benchmark data. The SIFs are also expanding to include other protection layers, alarms, relief valves, etc., which means you can look at the risk on a unit and visualize it in a risk matrix. The SIF Manager will also include more visualization and analytics.
"Now you will be able to see risk on the unit and decide what you have to do…so you can prioritize decisions; when you have to do it, why, and what will happen if you don't," Elliott said, noting that the last part of the new Safety Advisor technology is the ability to do "what if" scenarios to get a real-time view of cumulative risk in order to make decisions from a safety or commercial perspective.
The new Safety Advisor is currently in pilot tests with customers and more announcements are expected in early 2019. Ultimately, the goal is to shift the conversation about how safety impacts business.
"A new perspective on safety is what we are talking about at the end of the day," Clary said. "Instead of looking at a controller as something that keeps a plant from an incident, it now enhances business improvements."
Companies in this article