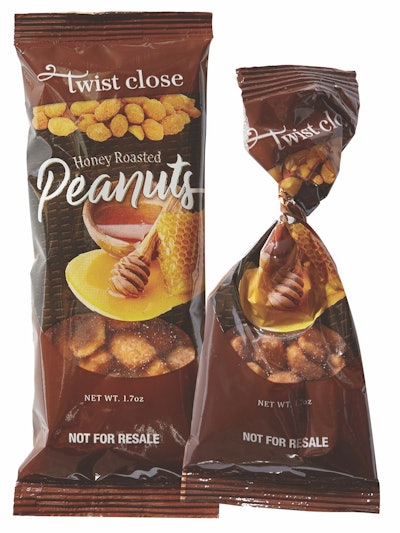 Transcontinental Multifilm has developed its own unique twist on recloseable snack packaging. The Chicago, Illinois-based flexible packaging company recently launched TwistClose, single-serve packaging that consumers can simply twist to close, providing them with the snacking convenience and portability that caters to their busy, on-the-go lifestyles.
Transcontinental Multifilm developed TwistClose in 2017 specifically for a food manufacturer that wanted a single-serve package that could be reclosed after opening, allowing consumers to eat the product in small increments while it stays fresh throughout the day. Because narrow tube-style pouches and flow wrappers with fin seals are too small to attach resealable zippers, Transcontinental Multifilm developed a single-serve package that a consumer can twist to close after opening the package. The mess-free, spill-free design is suitable for a range of dry snacks, including trail mix, nuts, candy and chocolates.
TwistClose features a three-layer structure with foil strips that provide retention and hold for easy reclosing. Using adhesive or extrusion lamination, Transcontinental Multifilm can bond the foil strips in between a variety of flexible packaging materials, including PE, PP, CPP and OPP. The company can also apply various gas and moisture barriers to the packaging and include a clear window for consumers to see the product inside. In addition, TwistClose films work with both vertical form/fill/seal and horizontal form/fill/seal equipment.
"The foil strips are key to the memory," says Marcus Magnusson, director of sales and marketing for Transcontinental Multifilm. "The reclosure is not hermetic, obviously, but it's sealed tight enough that you know you can take this thing and throw it at the wall, and it's not going to come apart. It's not going to unzip in your purse or your backpack as you're moving about."
Less meals, more snacks
According to Magnusson, TwistClose single-serve packaging offers convenience and portability for today's busy consumers, who are increasingly forgoing the traditional three meals a day in favor of grazing on snacks as they go about their hectic day. The numbers back him up. The global snack food market was valued at $280 billion in 2016, according to the 2018 Snack Foods Packaging and Processing Market Assessment and Trends report from PMMI, The Association for Packaging and Processing Technologies. In addition, a study from The Nielsen Company finds that the subcategory of on-the-go snacking was valued at $1.1 billion in the United States in 2017, with a compound annual growth rate of 10 percent between 2012 and 2016.
"What we were targeting was the whole idea of snacking on the go — that you don't necessarily eat the entire package in one sitting, but it's something that you would come back to again and again over the course of a day, maybe a four-hour period," Magnusson says. "The whole idea of packaging food in a snack-size portion that you're going to eat over a certain period of time, that's a trend that's here to stay."