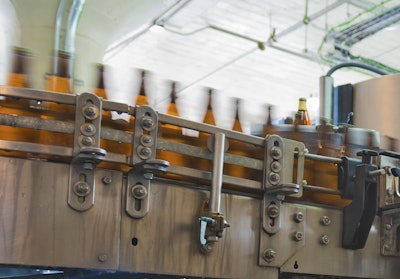 When you look up the definition of craft breweries or craft distilleries, "small" is in the definition of both. And according to a new white paper by PMMI Business Intelligence, "Craft Breweries and Distilleries: Machinery and Automation Trends," limited space (that is often unusually shaped) is one of the most common challenges facing these producers. Because of these constraints they need machines that are available in a range of sizes but are generally smaller in scale. Says one co-owner of a spirits distillery in Illinois, "We need the OEMs to understand the challenges we face operating in a small space and offer small-scale automation equipment."
Modularity is another option that craft producers want. Working in a small space often means one area must be used for different purposes, and machines must sometimes be moved, or must be able to work with other machines from different brands to integrate into their operations. The keywords? Flexibility, compatibility, adaptability and mobility. Says one operations director of a spirits distillery in Los Angeles, "We look to the OEM to provide ideas for future production designs that can be installed within our current space and as we invest in more automation, all equipment needs to talk to each other."
Lower cost of a machine is often a priority over the luxury of higher functionality, due to thin margins in craft production. Budget constraints mean craft producers are looking for flexibility and the ability to customize machinery to their budget and timeline, as well as their space. "We look to the OEM to provide information on phasing in new equipment; we need modular equipment that can be installed in phases," says one owner of a beer and spirits company in New Mexico.
To learn more about craft beer and craft spirits markets, download the FREE white paper here.
Source: PMMI Business Intelligence, "Craft Breweries and Distilleries: Machinery and Automation Trends."
Learn more about craft brew and craft spirit packaging solutions at PACK EXPO Las Vegas, September 23-25, 2019.
Companies in this article