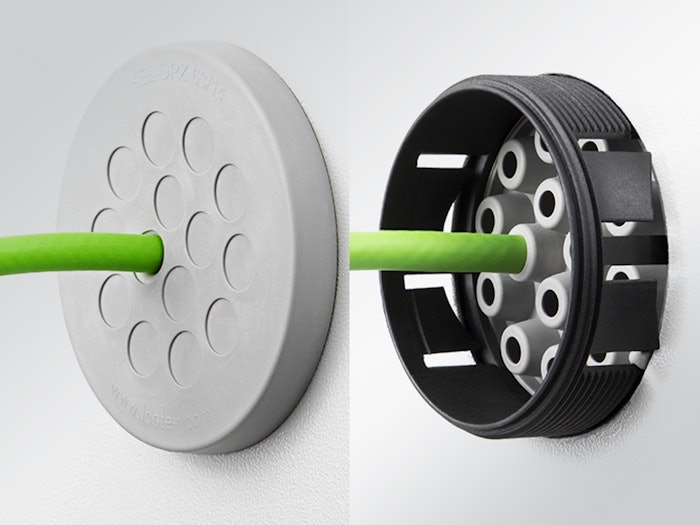 Icotek is exhibiting several of its space-saving cable entry plates and frames at PACK EXPO Las Vegas. Utilizing space on the plant floor more efficiently is a growing concern for many manufacturers with overhead costs rising while margins simultaneously shrink.
The KEL-DPZ-CLICK Entry plate allows 78 cables to be fed through a single cut-out, and is available in two different mounting options. End-users can either use a counter nut to fix it to a wall of up to 11 mm in thickness or simply snap it in without the need for further mounting fixtures for walls 1-2.5 mm in thickness. By using the KEL-DPZ-CLICK, cables in control cabinet housings, systems, and machines can be routed with plugs and sealed up to IP68. In addition, the CLICK system can be installed from the front without having to counter the cable entry from the rear.
Icotek has also begun offering its KEL-SNAP frame in a splittable version called the KEL-SNAP-S. These frames provide a tool-free assembly for the company's KEL, KEL-U, KEL-QUICK, and KEL-FG-A cable entry frames.  In addition, because the snap-in frame is splittable, it can be easily retrofitted, as KEL-SNAP frames that have already been installed can be replaced without having to disconnect all the cables that have already been passed through.
Depending on the type of installation, the KEL-DPZ-CLICK has achieved the certified protection classes IP65, IP66 and IP68, RINA, HL3, and ECOLAB. The KEL-SNAP-S has achieved protection class IP54.
Companies in this article