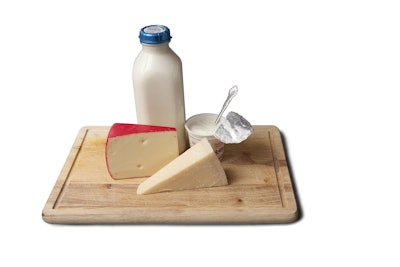 The dairy industry is intrinsically complex and multifunctional with consumer demand and current market conditions prompting the reshaping of the industry to deliver improved product quality, stability and safety to customers, while reducing energy and costs, according to market research firm Frost and Sullivan. Simultaneously, the advent of novel technologies in the fields of life science development, advanced material design, microelectronics and nanotechnology, advanced thermodynamics, food engineering and processing, and Internet of Things (IoT) innovations are converging through food safety testing applications and smart food safety management. This constitutes a unique opportunity for companies to embrace new food safety solutions, the research firm says.
Frost & Sullivan's research, "Breakthrough Technologies Enabling Food Safety in the Dairy Industry," profiles emerging technologies that will enable the dairy sector to meet future needs, as well as open up new possibilities for the sector to impact and converge with others.
"Partnerships, mergers and acquisitions, co-development and other collaborative models are best suited to leverage new technology in the design of smart solutions and products for market penetration and adoption," said Frost & Sullivan TechVision Senior Industry Analyst Cecilia Van Cauwenberghe. "Standardization and compliance are crucial to success. Therefore, food safety best practices must be implemented from the beginning, including the adoption of technology for pathogens, allergens, mycotoxins, genetically modified organisms (GMOs) and yeast detection."
Players should look to embrace novel products and solutions across the dairy value chain, including:
Enhancing the efficacy of thermal treatments and minimizing the deleterious effect on milk-derived products, or using ultra-high pressure and UV processing methods when thermally treating milk to reduce color changes or gelation during processing and storage.
Embracing technologies originally developed for pharmaceutical and biotechnology sectors to detect pathogens, allergens, mycotoxins, GMOs, other micro-organisms and biomolecules across the entire value chain.
Adopting enhanced traceability and packing solutions through micro and nanoparticles technologies and advances in material design, and 3D-printed electronic circuits.