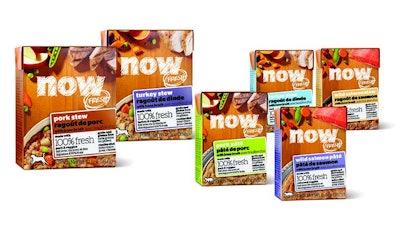 Known for using organic, non-GMO, human-grade ingredients and environmentally conscious production processes, Petcurean has taken its commitment to sustainability another step forward. The Canadian pet food manufacturer, based in Chilliwack, British Columbia, recently debuted its line of pâtés and stews in eco-friendly packaging that it says will also help boost its bottom line.
When Petcurean expanded its NOW FRESH line with wet food like pâtés and stews, the company wanted to use sustainable packaging that could reduce its carbon footprint yet improve profitability. The company decided to package its new pâtés and stews in the Tetra Recart retortable cartons from Tetra Pak.
The Tetra Recart carton consists of 69 percent renewable materials, primarily wood fibers. The wood fibers come from forests certified by the Forest Stewardship Council, which guarantees that they are sourced from responsible forest management. The cartons are also 100 percent recyclable and BPA-free.
In addition to the environmental advantages, the Tetra Recart cartons are cost-efficient to transport and store, according to Petcurean. Because the cartons are provided from Tetra Pak in a flat format, Petcurean can ship more of them to their manufacturing plants. According to Tetra Pak, one truckload of empty folded cartons is equivalent to nine truckloads of empty cans. In addition to being 64 percent lighter than cans, the rectangular shape of the cartons means they take up 40 percent less space than traditional canned pet food. So Petcurean can load more products on to pallets and retailers' shelves. "There's less space wasted when you're shipping," says Jennifer Adolphe, senior pet nutritionist at Petcurean. "It requires less packing for the same amount of product."
Using the Tetra Recart cartons is not the company's first foray into sustainable packaging. It's GATHER line of dry pet food uses bio-based flexible packaging made from 30 percent sugar cane-based polyethylene — a green alternative to conventional petroleum-based plastic. The company is currently looking into packaging that is made from sustainable, renewable materials for its other pet food lines: GO!, SUMMIT and SPIKE. Petcurean considers packaging the obvious next step in its sustainability journey.
"By launching NOW FRESH pâtés and stews in Tetra Pak cartons instead of traditional packaging, we're demonstrating that we prioritize sustainability wherever we can — with our ingredients and now with our packaging choices," says Walter Cosman, general manager at Petcurean.
Companies in this article