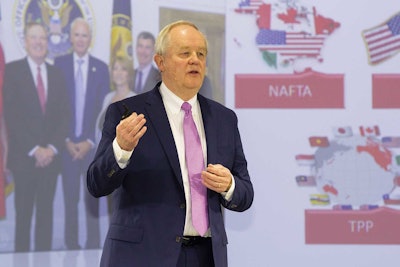 Michael Dykes, president and CEO of the International Dairy Foods Association (IDFA), kicked off last month's annual Dairy Forum in Palm Desert, California, with a caution that the U.S. milk supply will continue to outpace demand in the coming decade.
To emphasize the importance of dairy exports and the benefits of a healthy dairy industry to the U.S. economy, last year IDFA commissioned an economic research firm to quantify the economic impact of the dairy products industry.
According to Dykes, dairy foods companies employ nearly 1 million skilled individuals, generate more than $39 billion in direct wages and have an overall economic impact of more than $200 billion. In November 2017, IDFA and 21 other food industry trade associations launched a new website called FeedingtheEconomy.com. The website's data demonstrates that the food and agriculture sector is the largest manufacturing sector in the nation, with a major impact on the health of the U.S. economy.
"So, what does the future hold for dairy?" Dykes asked his audience of more than 1,000 people. "What can we, as industry leaders, do today to shape the future we want for tomorrow? I think it's safe to say that what got us here today won't get us there tomorrow." The top three challenges to the industry are understanding consumer habits, employing innovation and quickly meeting market changes.
According to Dykes, the dairy industry needs to stay on top of emerging trends and find ways to gain market advantage. "We are in a new era where a gallon of milk is much more than a beverage. It represents a whole series of valuable ingredients and marketable fractions that will continue to emerge and lead to expanded market opportunities," he said. "We will need the manufacturing capabilities and global regulatory oversight to ensure consumer safety and confidence in these new product opportunities."
For food and beverage products in general, protein continues to be in strong demand, especially with many people moving away from empty calories and the associated challenges of obesity. "Milk is loaded with protein," Dykes stated, and he challenged Dairy Forum attendees to create more value-added dairy products that deliver both a fun and healthy protein punch.
Dykes predicts a slew of new packaging that will require different supplies and updated equipment that can handle faster filling and continuous manufacturing. "Producers and processors, suppliers and retailers will need to work together to discover innovative solutions for the entire dairy value chain," he said.
Companies in this article