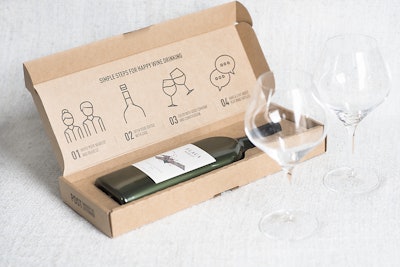 Prepare to be inspired. The winners and finalists of The Dow Chemical Company's 2018 30th Awards for Packaging Innovation highlight the latest advancements and pioneering achievements in the packaging industry that serve ever-evolving customer needs while also addressing sustainability and resource efficiency.
"This year's winners display customer-first designs with improvements in material technology and responsible resource use, from new formats in food packaging and e-commerce protection to improved medical and hygiene packaging," says Diego Donoso, business president for Dow Packaging & Specialty Plastics.
Out of a field of more than 200 entries from companies in 30 countries, Procter & Gamble's Air Assist won the Diamond Award, which is the competition's highest honor. The liquid packaging technology uses compressed gas to provide tailored rigidity to create structure in flexible films. By using a proprietary one-way valve, the new packaging form delivers cleaner dispensing, controlled dosing and convenient one-handed use while still tough enough for e-commerce shipping without extra protection. Air Assist also uses 50 percent less plastic than a traditional rigid bottle and has a 360-deg palette for design and marketing.
In addition to the Diamond Award winner, the judges selected nine Diamond Finalists, eight Gold Award winners and 11 Silver Award winners. Dow honored a number of food and beverage companies in these categories in recognition of their packaging creativity and ingenuity.
For example, Garçon Wines was named a Diamond Finalist for its inventive flat wine bottle. Designed for e-commerce in the United Kingdom, the slender, 750 mL recycled PET bottle lays flat in a die-cut cavity in the same shape as the bottle within the letterbox postal packaging, which allows mail carriers to slip the package through mail slots located on the doors of U.K. homes. Using 100 percent postconsumer recycled PET instead of glass significantly reduces shipping weight and costs, eliminates potential breakage in transit, and offers a more eco-friendly packaging material than traditional plastic or glass.
The Doritos E-Z SnackPak from PepsiCo Mexico Foods and ProAmpac won a Gold Award for its innovative tetrahedron-shaped pouch, which transforms into a serving tray upon opening. The shape also adds structural support to protect the product during shipping and uses less packaging than typical pillow pouches.
The Green Giant Veggie Spirals PrimaPak package from B&G Foods and Sonoco also earned a Gold Award for its versatile, semirigid container. Equipped with a resealable lid, the microwaveable packaging acts as a bowl that gives consumers the options to heat the contents, blend additional ingredients into it and serve the food directly out of the package. The lightweight rectangular box shape also takes up 30 percent less space than similar frozen food packaging, maximizing space on trucks, in warehouses and on store shelves.
The KitKat Celebreak box from CBA B+G took home a Silver Award for creatively integrating the iconic snap of a KitKat chocolate bar into the packaging design of its novelty gift box, which is filled with mini KitKats. Consumers snap the box, which is shaped like a KitKat bar, to get to the chocolate inside. The packaging reflects the new trend of adding multisensory cues to reinforce the attributes of the product.
Here are all the winners and finalists of the 2018 30th Awards for Packaging Innovation:
Diamond Winner
Air Assist — Procter & Gamble
Diamond Finalists
Febreze ONE — Procter & Gamble
Flat Wine Bottle — Delivering Happiness Limited T/A Garçon Wines
LDS 2cc ECOM Dispensing Pump — Rieke
LiquiForm — Amcor Rigid Plastics
Seed Phytonutrients Shower-Friendly Paper Bottle — Ecological Brands, Inc.
Simply Beverages Recycle Code No. 1 Extrudable PET Juice Container — The Coca-Cola Company
StealthWrap — Sealed Air
Tubairless — Pumpart System
Waterless Internet Flower Packaging — Uflex Limited
Gold Award Winners
Doritos Crunch Prism Pack — PepsiCo Frito-Lay
Doritos E-Z SnackPak — ProAmpac
Dual Hoop Catheter DISK — CleanCut Technologies
Extra Rich Rosy Foam Facial Wash Packaging — Kanebo Cosmetics Inc.
Green Giant Veggie Spirals PrimaPak — Sonoco Products Company
Head & Shoulders Beach Bottle — Procter & Gamble
Voltaren No Mess Applicator — GSK Consumer Health, Inc.
Wave Seal Technology — Wave International
Silver Award Winners
ASAHI SUPER DRY ICE COOLER PACK — WestRock, K.K.
CleanPouch Aseptic Spouted Pouch System – Scholle IPN
Danoninho para Levar — Danone Brazil
Downy (Lenor) Parfum des Secrets Package — Procter & Gamble
KitKat Celebreak Box — CBA B+G
Mix On Command (MOC) Shaker Bag — JPro Dairy International, Inc.
PaperBoat Thandai Retortable Profile Pouch – Huhtamiaki PPL Ltd.
PurClean™ Package — Procter & Gamble
PushPop® Technology — Amcor Flexibles
Stain Remover Qualitá - New Again Plastic Container — GPA Group
Two-Layer Laminate Sachet for Packaging Margarine — PrimePak Industries Nigeria Limited
For more information about all the winners and finalists of Dow's packaging awards, please visit https://www.dow.com/en-us/packaging/innovation/awards-for-packaging-innovation.
Companies in this article