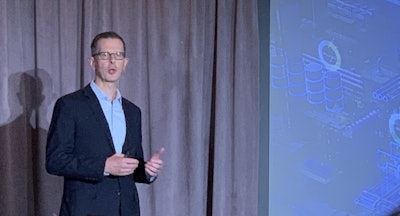 The availability of new technologies to help manufacturers digitize their operations is a constantly growing resource. But implementation comes with caveats, particularly monetary ones, which may render the adoption of these technologies unfeasible for many companies.
At the Emerson Global Users Exchange in Nashville this week, the company announced the establishment of its Digital Transformation business, an organization dedicated to helping manufacturers and processors develop and implement their digital transformation vision and achieve industry-leading, or top quartile, performance.
According to Emerson, industry benchmarking shows big gaps between top quartile performers and the rest of industry. Top quartile industrial businesses "enjoy two weeks more uptime, half the maintenance costs, and 30% of the safety issues experienced by the rest of industry," said Stuart Harris, group president of Emerson's new digital transformation business (pictured above). Harris has been with Emerson since 1986.
"Companies try to tackle digital transformation as one single thing but may not be not sure what the problem is that they're trying to solve," said Harris. "They may then invest in the wrong technology and get frustrated."
Harris also noted the challenge most companies face when conducting digital pilots is trying to scale those pilots. "Those who start with technology first tend to get frustrated because a return on investment can be difficult to achieve [with that approach]," he said. "That's why it's important to have a focus, know the metrics of success, and measure your performance against those."
To help companies focus on the factors that will deliver measurable improvement, this new $650 million business will leverage Emerson's existing expertise in consulting, project execution, smart sensor technologies, data management, and analytics—all of which are part of Emerson's Plantweb digital ecosystem. It will also bring new Emerson resources into play, such as:
Operational certainty consulting at the facility and enterprise-level to help customers develop roadmap strategies and implementation to improve reliability, safety, production, and energy utilization metrics;

An operational analytics portfolio of predictive diagnostics and advanced analytics;

Industry-specific expertise on systems to drive key performance indicators;

Pervasive sensing with a large portfolio of smart, easy-to-deploy, connected devices, including wireless instruments; and

Project management to guide organization with best practices, tools, and resources to implement a digital transformation project with confidence.
"In a space inundated by confusing promises, Emerson helps customers define and execute a practical and successful path to digital transformation," said Lal Karsanbhai, executive president of Emerson's Automation Solutions business. "With our new Digital Transformation business, we are strategically focused on guiding customers to the right strategy, helping them drive improved organizational alignment, and implementing programs that accelerate improved business performance."
Companies in this article