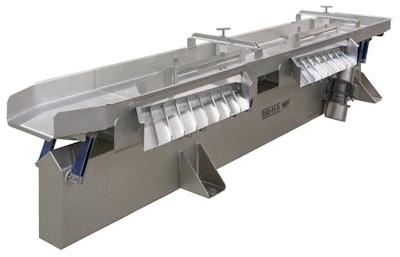 The Key Technology Iso-Flo moonbeam vibratory conveyor features a frame made of a single structural member; the frame and spring arms can be tucked completely under the stainless steel conveyor bed, which features a standard rotary polish within the product contact zone. The unit includes oil-free drives, elastomer isolators, scalloped flat bars, internal ground arms and no laminations. Suitable for a range of food processing and packaging applications, the conveyor can be floor mounted, mounted to other machinery or suspended overhead. It features the CE mark and is UL certified.
Companies in this article
Videos from Key Technology, Inc.