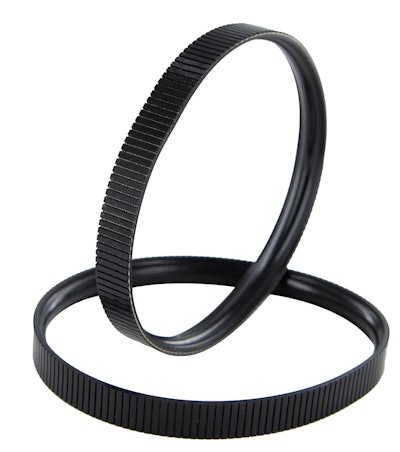 Fenner Precision Polymers, a Michelin Group Company and provider of reinforced polymer technology, announces the introduction of its Eagle XLD O-ring at the 2022 Pack Expo International Show in Chicago at booth LU-7020. Through collaboration with Michelin, Fenner developed a hybrid, reinforced D-shaped belt to optimize load transfer. The result is a longer life solution for what can cost distribution centers tens of thousands of dollars with every incidence of O-ring failure.
"This is entirely new territory for O-ring conveyors and with it comes advantages for both OEMs and the end-user," says Brian Slingluff, vice president and general manager at Fenner Precision Polymers US. "OEMs will discover economies of design that enhance the way conveyors are built and end-users will benefit from greater operating efficiencies."
These XLD O-rings are designed to deliver enhanced performance through the application of Fenner's polyurethane expertise, making the product more abrasion resistant compared to rubber and thermoplastic polyurethanes. It is also stronger, and more resistance to heat than rubber.
Eagle XLD Bimodulus O-rings last up to six times longer than standard O-rings and provide four times greater roller-to-roller power transfer, says the company. In addition, tension does not decay over the life of the belt. The combination of higher power transfer and load capacity allow for a conveyor design that can carry more with less motors, which translates to cost savings in belting, maintenance, and energy costs.
Materials for the Eagle XLD were developed in partnership with colleagues in Michelin's High-Tech Materials Division. With its patent pending Bimodulus technology, the new O-ring provides much more than longer life. The lower- and higher-modulus materials optimize dynamic load capability. In addition, the D-shape optimizes the contact area to take advantage of the strength of the higher-modulus material. The result—a belt that is quick and easy to install with no need for special tools.
Operating costs are streamlined as well. Typically, O-rings lose 10% of their load from roller-to-roller, making transfers inefficient. Eagle XLD loses less than 1%, delivering both higher load and efficiency, thereby reducing belt spend and energy costs. The increased life of the Eagle XLD O-ring also means longer time between preventive maintenance shutdowns. Finally, reduction in energy use and marked increase in wear life also contribute toward corporate sustainability goals.
Keeping up with demand is a primary growth concern for distribution centers. The Fenner line of XLD O-rings will not only help them keep pace, they do so while cutting costs and increasing uptime.