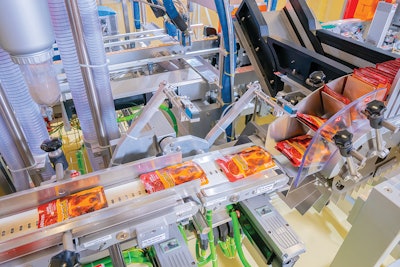 Photo courtesy of Engilico
In June 2021, Aaron Hand reported the details of Special Dog Company's shift to 100% inline seal inspection of its flexible pouches, eliminating concerns about poorly sealed pet food product getting to the customer.
The global pet food market reached nearly $97 billion in 2020 and is projected to register a CAGR of 4.8% through 2026, according to Reportlinker.com. But perhaps more important than the pure numbers is the idea of growing pet humanization—a shift from pet ownership to parenting, a growing bond that brings with it a willingness to spend more on pets.
Top-quality, nutritional, flavorful pet food is more important in this market than ever. Special Dog Company, established in Brazil two decades ago, deployed a state-of-the-art production facility in Santa Cruz do Rio Pardo in 2019 to increase its product portfolio and keep up with the growing market. When it did so, an important requirement set forth by the company was to move to 100% inline seal inspection to safeguard the packages and the wet pet food inside. To inspect the sealing of the retort pouches, Special Dog Company extensively researched the market and ultimately opted for the SealScope inline seal inspection system from Engilico.
Continue to the full article:
Inline Seal Inspection Maintains Quality of Retort Pouches
Companies in this article