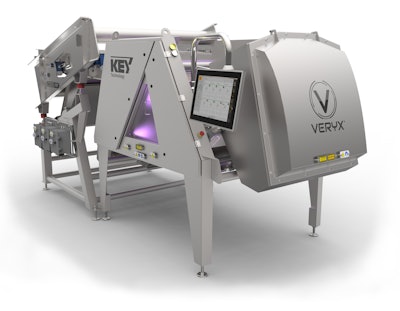 Designed for low- to mid-capacity production lines, the Key Technology VERYX C70 digital chute-fed sorter has advanced inspection technology for removing defects and foreign material and/or product grading based on objects' color, size, shape and/or structural properties. It includes a concave-shaped slide that stabilizes product as it enters the inspection and ejection zones, a 700-mm wide inspection zone for the singulation of products, four channels of information from the cameras, up to eight channels of information from the laser scanner and LED lighting that operates at frequencies in relation to each of the front- and rear-mounted laser sensors. The unit sorts free-flowing foods, such as nuts, dried fruit and IQF products, including fruit, vegetables and seafood.
Companies in this article
Videos from Key Technology, Inc.