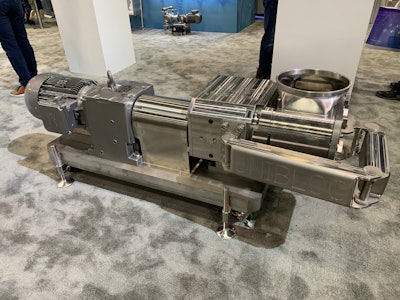 Michael Costa
Unibloc debuted its new UltraLobe Food First 700 series lobe pump at PACK EXPO Las Vegas. The all stainless-steel UltraLobe is the largest hygienic lobe pump currently on the market, and while it's a step up in size from Unibloc's 600 Series, those at Unibloc say it's a giant leap in processing capabilities for meat, dairy, pharmaceuticals, and more.
The UltraLobe carries a small footprint in relation to its productivity, which according to Unibloc, can do the work of two smaller pumps in just 20% of the space, multiplying the throughput by two to three times compared to other pumps.
"We've had some people say they have two lines, and it'd be great if they can do more production, and move down to one single line," says Mark Boyd, vice president of sales at Unibloc. "This will pump twice the volume, so, customers tell us they can do a lot more [processing] with something of this size."
UltraLobe 700 series also incorporates Unibloc's patented Quick Strip design for easy cleaning capabilities with one-way assembly and disassembly, and Unibloc's patented safety swing arm to prevent potential staff injuries and damage to the equipment.
Companies in this article