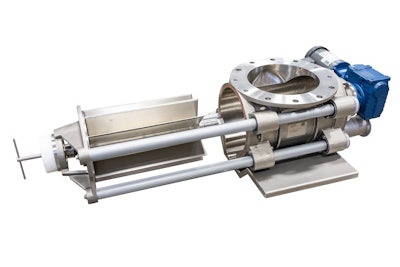 The Schenck Process Global hygienic blow-through airlock (GHB) is ideal for applications where dry raw or finished products are being handled in the process and where inspection or system cleanout is required. Because the GHB is designed for high process rates, it possesses a number of features suited for processes that have a higher sanitary requirement.
The GHB incorporates seals and product contact surfaces that meet food safety requirements. The endplates and rotor can be disassembled and removed from the valve housing for cleaning. The endplates have specifically been designed for access to the seal area for cleaning or seal replacement. Rotor removal and reassembly is completed with a few simple steps in min.
Each GHB is equipped with a wide range of features that include a design for NFPA 69 blocking valve requirement, 32 Ra surface finish on all wetted and primary food contact surfaces, and a casting exterior surface that is free of all pits and porosity, providing an easy to wipe and washdown valve exterior.
Companies in this article