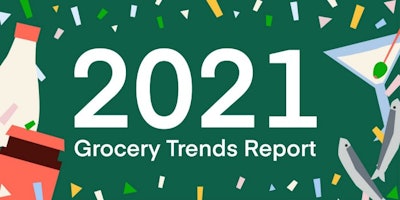 Demand for shelf-stable and Keto foods, as well as alcohol-free spirits occupy consumer minds in the first "New Year, New Cart" 2021 Grocery Trends Report released by Instacart, an online grocery platform. The report forecasts at-home food trends and grocery shopping habits for the year ahead. Data reflects five key shifts in shopping behavior, buying preferences, and food attitudes after nearly a year of COVID-19 pandemic living and cultural shifts.
---
Watch COVID-19: Food Industry Worker Safety and Industry Response, with Joyce Fassl from PACK EXPO Connects.
---
"After months of binge baking, drinking more and indulging in quarantine comfort foods, our findings show that the pendulum is swinging the other way as online consumers set their sights on a new year full of bolder flavors, lower-alcohol cocktails and resolution-friendly Keto snacks," says Laurentia Romaniuk, Instacart's trends expert and senior product manager. "We're also witnessing an increase in brand mindfulness, as the cultural shifts of 2020 make their way into consumer purchasing decisions in the grocery aisles."
---
Watch our Trend Chat from PACK EXPO Connects: Food Processing Manufacturing Innovation with J.M Smucker Company and Hermes Boissons.
---
As the pandemic continues into 2021, Instacart expects at-home cooking to continue reigning supreme, with five key shifts in shopping behavior:
Increased purchases of exotic spices and flavors, with consumers showing more interest in handcrafted shelf-stable sauces and spice blends on the Instacart marketplace. Anchovies and fancy, foodie-approved mayo, such as Kewpie brand mayo, are also on the rise.
A 72% increase in year-over-year sales of products with "Keto" in their name forecasts success for these products in 2021. Marketplace sales also suggest sweet Keto treats will fly off the shelves next year.
Increased purchases of alcohol-free spirits, low-calorie alcoholic beverages, and boozy versions of popular healthy beverages such as hard kombucha, the White Claw Hard Seltzer brand, and other brands across the hard seltzer category. Instacart expects to see more guiltless mixers added to 2021 online orders.
Increased store and brand selectivity, opting for locally run or owned brands. Interest in women and BIPOC-owned brands is also rising–high-performing brands experiencing large upswings to watch for are Partake Foods, Pipcorn, Pitmaster LT's, Glory Foods, and Uncle Nearest.
A significant shift from weekend to weekday shopping runs has developed with COVID-induced flexible schedules likely related to social distancing guidelines and large-scale shifts towards working from home.
---
Read: Food and Beverage Industry Continues to Prevail During Tough Times
---