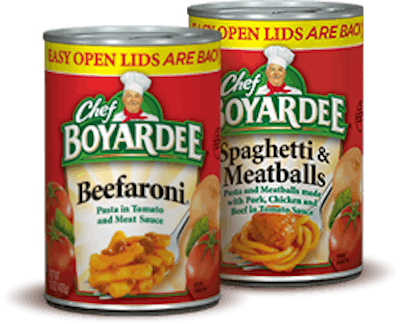 In late July 2015, ConAgra Foods, Inc. announced that all of the company's facilities in the U.S. and Canada have completed the transition to cans without Bisphenol A (BPA) liners. While ConAgra Foods began canning some food in non-BPA lined cans in 2010, other foods required a different approach, due to their acidity or other characteristics.
Extensive research and trials to find safe, long-lasting, and economical packaging led the company to Ardagh Group, a global supplier of glass and metal packaging solutions. Ardagh invested in capacity and capability to meet ConAgra Foods' needs and began providing the company with non-BPA cans earlier this year. The cans are made in new, state-of-the-art production facilities equipped with advanced technologies having coating systems that use polyester or acrylic materials.
"Our ongoing commitment to consumers means that we constantly work to improve our packaging to assure quality and the overall experience," says Gail Tavill, Vice President, Packaging & Sustainable Productivity, ConAgra Foods. "We recognize consumer interest in removing BPA from our cans and are pleased to be able to respond to that desire and offer food that our consumers can feel confident in."
ConAgra Food's canned food items include the following:
Hunt's tomatoes
Hunt's Manwich sloppy joe sauce
Reddi-wip whipped cream
RO*TEL tomatoes and green chilies
Van Camp's beans
Libby's sausages and corned beef
Wolf Brand Chili
Ranch Style Beans
Dennison's chili
Chef Boyardee canned pasta
PAM cooking spray
The company does import a small quantity of canned products with BPA liners into the U.S. and Canada and is working with the suppliers of these products to convert to non-BPA liners by early 2016.
Companies in this article