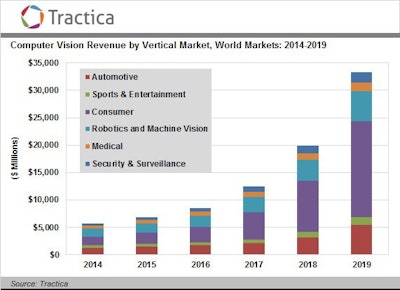 Vision systems serve an important purpose in the food and beverage and packaging industries. When thousands of products zoom down a production line, the human eye is just not capable of performing adequate inspection and quality control. But the camera can. And, these systems, which are getting smarter and smarter, are acting as more than just the eyes of the machine. They are partly the brains, too.
In a move away from the mundane tasks of pick-and-place, machine vision is popping up in collaborative robots, for example. Robots equipped with torque sensors, cameras and software, can interpret their surroundings in order to work safely next to humans.
In addition, the need to "see" things across manufacturing processes is becoming increasingly important for business viability related to regulatory compliance. The Food and Drug Administration (FDA) is putting pressure on companies to proactively avoid problems rather than react to costly, and sometimes risky, recalls. There are many causes for a recall, but incorrect labeling on a package ranks high on the list of reasons to pull a product off the retail shelves.
That could explain the growth in the machine vision market. According to information recently released by the Automated Imaging Association (AIA), North American sales of machine vision systems and components grew 22 percent in the first quarter of 2015, the market's highest first quarter total in history.
"It's great to see the North American machine vision market off to such a strong start in 2015," said AIA President Jeff Burnstein in a statement released in June. "We think more and more companies in all industries are recognizing the value that machine vision and imaging systems can have on their overall competitiveness."
Indeed, vision systems are broadening into new industries and areas, some of which fall into segments outside of manufacturing. And, that's where machine vision's twin, computer vision, comes in.
Machine vision is the process of applying a range of technologies and methods to provide imaging-based automatic inspection, process control and robot guidance. Computer vision systems use some of the same technology, but take it a step further by capturing images and manipulating, changing or enhancing them for a given application. Computer vision is showing up in non-industrial segments as companies like Google, Microsoft and NVIDIA have research labs focused specifically in this area.
According to research firm Tractica, the move from the labs to the commercialization of computer vision technology over the past few years has generated market opportunities in a variety of sectors, with the strongest adoption to date being in consumer electronics, robotics and automotive. But early-stage markets for computer vision also exist in healthcare, security and surveillance, and sports and entertainment.
A Tractica report indicates that growth will continue to be strong in all of these areas during the next several years, forecasting that 183 million computer vision-enabled devices will be shipped each year globally by 2019.
That translates into a computer vision market expansion from $5.7 billion in 2014 to $33.3 billion by 2019 at a compound annual growth rate (CAGR) of 42 percent, according to Tractica. The consumer segment will experience the highest growth rate, followed by the robotics and machine vision segment.
"Rapid development of technology, together with falling chip prices, increasing need for automation and surveillance, and consumer demand for camera-based applications, are some of the factors currently driving the adoption of computer vision technologies," said Tractica senior analyst Anand Joshi. "New technologies like deep learning are also evolving that promise to increase accuracy and reliability of computer vision systems dramatically, but these technologies need more research before they can become mainstream."
Companies in this article