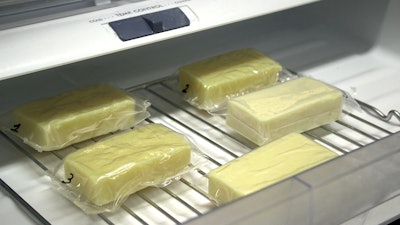 In early 2010, Packaging World reported on research focusing on the development of packaging films based on dairy proteins such as casein and whey.
That research, from U.S. Agricultural Research Service (ARS) scientist Peggy Tomasula, continues to move forward. A new research project, started April 13, 2015, and scheduled to run through April 12, 2020, aims to improve the sustainability and quality of food and dairy products from manufacturing to consumption via process modeling and edible packaging. The project team includes Tomasula, Laetitia Bonnaillie, and Michael Tunick.
An American Chemical Society video provides a good overview of the edible, biodegradable food packaging. The study was presented at the ACS national meeting.
An Aug. 22 Bloomberg.com story, "Milk, Not Plastic, Will Protect Food in the Future," reported, "U.S. Department of Agriculture researchershave discovered thata milk protein called casein can be used to develop an edible, biodegradable packaging film.The casein-based film is up to 500 times better than plastic at keeping oxygen away from food because proteins form a tighter network when they polymerize, the researchers found. It's also more effective than current edible packaging materials made from starch and protects food products that are sensitive to light."
Bloomberg's story added, "To produce a more practical packaging material, the teamadded glycerol and citrus pectin to the casein film, which is made by spreading a mixture of water and commercially available casein powder. Glycerol made the protein film softer, and citruspectinadded more structure to the film, allowing it to resist humidity and high temperatures better."
The article said casein could serve not only as the packaging, but also be sprayed into foods as a healthy ingredient. "Itcouldeven be used to line pizza boxes," said the story. "Whilethe U.S. Food and Drug Administration banned perfluorinated chemicals,which used to coat the cardboard surrounding your pepperoni,sausage, and extra cheese pie,a sprayed-on casein coating could serve asan alternative product to prevent grease and stains."
Although the milk-based proteins might be helpful, it could be years before the USDA makes it available, said the story.
Edible packaging examples
That said, edible packaging has been used. In 2014, for example, Stonyfield collaborated with Wiki Foods and its WikiPearl technology to launch Stonyfield Frozen Yogurt Pearls (froyo), whose natural skins created an edible cup.
Stonyfield's website noted, "Stonyfield Frozen Yogurt Pearls are so ground-breaking stores aren't yet equipped to sell them completely package-free. Shoppers will be able to buy them either in pre-packed cellulose bags made from wood fiber in the frozen aisle, or over the counter at Wikibars where they can be placed directly in shoppers' bags, egg cartons or in any container people bring in, for a plastic-free, waste-free treat. Stonyfield and WikiFoods are working with retailers to design package-free solutions for the near future—at that point, frozen yogurt fans will be able to find them in bulk at a fixed station or in a self-service dispenser, free of any unnecessary packaging and waste."
In early 2015, USA Today reported KFC was experimenting with an edible coffee cup for its Seattle's Best Coffee, "made from a special, wafer-like biscuit, then wrapped in sugar paper and lined with a layer of heat-resistant white chocolate." The story quoted KFC Spokeswoman Jocelyn Bynoe as saying, "If our customers occasionally like to have their cake and eat it, why wouldn't they want to have their cup and eat it, instead?: The story added that Bynoe said KFC had been experimenting with edible packaging for some time to see if it could be a feasible product to bring to market in limited quantities.
The USA Today story said Robin Collective, a London-based food science specialist, was involved with the KFC edible cup, referred to as the "Scoff-ee Cup."
Additional resources
Several other sources recently reported on the casein research, including the following:
• An Aug. 25 Environmentalleader.com story said, "PepsiCo is reportedly considering edible packaging and Loliware manufactures bioplastic packaging made from biodegradable—and edible—materials."
• An Aug. 22 Foxnews.com story said, "The film looks similar to plastic wrapping, but is up to 500 times better at protecting food from oxygen, as well as being biodegradable and sustainable." It quotes Tomasula saying, "The protein-based films are powerful oxygen blockers that help prevent food spoilage. When used in packaging, they could prevent food waste during distribution along the food chain." Citing USDA researcher Bonnaillie, the films are being tested on single-serve, edible food wrappers. "Bonnaillie said she hopes the milk protein will be on store shelves within three years," the story noted.
• An Aug. 23 report on Popular Science's website offered some insightful images. The article said, "In addition to casein, researchers tested adding glycerol and citrus pectin to the already-formed casein film, which added both structure and softness. This means other additives and flavors could go into forming the packaging to either enhance the food contained within, or to improve the taste of the new 'plastic.' The film itself can also dissolve in water, which could mean big things for packets of soup or single-serve foods like cheese."