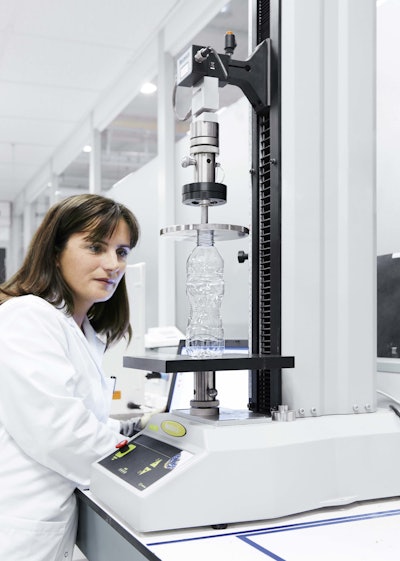 Technavio analysts forecast the global bottled water market in terms of revenue and volume to grow at a CAGR of 7.40% and 6.18%, respectively, during 2014-2019. The analysts estimate factors such as the increasing focus on improving and redesigning of packaging materials to spur the growth of the bottled water packaging market until the end of 2020. Customers prefer buying products with attractive packaging, so manufacturers are continuously trying to reinvent and enhance the packaging for bottled water. The material of choice in this growing market is PET, covering 86% of all projected bottled water packaging sales in 2016.*
The Sidel PET Complete Water Solution was developed to consider every aspect of water production, including packaging with a focus on lightweighting. "Smarter solutions and innovations are essential to meeting the needs of the rapidly expanding and ever-changing bottled water market. A complete line approach recognizes the roles that lightweight and safe packaging, top quality equipment, optimized line design, smart automation and ongoing services all have to play in meeting the market challenges. It offers producers full control and transparency throughout the bottling process," says Simone Pisani, category marketing director, water, at Sidel.
Every year, Sidel scientists and in-house packaging designers work on more than 250,000 new bottle concepts. One of Sidel's recent developments within bottled water production is the development of the Sidel Rightweight bottle. This design reduces bottle weight and energy consumption during production, while improving the container's performance across the entire supply chain. The resulting 0.5 litre bottle weighs 35% less than the average commercial alternative, yet achieves 32% greater top-load performance than the lightest commercial bottle, resulting in cost savings of up to EUR 1.74 million per year.**
The cost of the raw material used to make a PET bottle can account for as much as 70-80% of a bottle's cost, so it is understandable that the industry continues to focus on lightweighting. However, ensuring best product's performance throughout the supply chain and strengthening the beverage's value proposition to consumers are also key success factors in the water market," continues Pisani. "This is why Sidel has developed a new PET base for still water, the StarLite.The StarLite shape significantly increases base resistance and stability. Through this solution, which can even be applied to existing lines, overall package weight is lowered. With StarLite, bottles for sparkling water can also benefit from improved protection against stress cracking."
*Euromonitor International (2016)
**Calculation based on a Sidel Matrix blower with 20 cavities blowing at 2,250 bottles per hour and 6,000 hours of production per year, with a PET cost of Euro 1,600 per ton.
Companies in this article