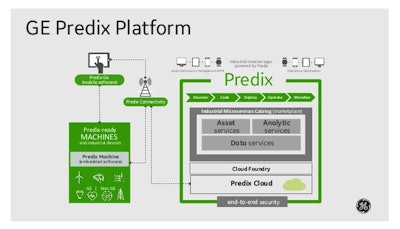 If there is one trend in industrial technology that highlights the emerging connection between operations technology (OT) and information technology (IT) it's industrial technology suppliers' increasing focus on open software platforms . Examples include Schneider Electric's EcoStruxure, Festo's CPX Modular Control Platform, Wind River's Titanium Control and GE Digital's Predix.
During a meeting with GE Digital in its San Ramon, Calif., headquarters I got a look into where Predix is currently at and where it's going. For GE Digital, Predix is the nexus where app engines, digital twins, machine learning and asset performance management meet.
"Platforms are where tech is going," said Gytis Barzdukas, head of product management for Predix at GE Digital. "Like Apple, Amazon, Microsoft and Alphabet have their platforms in the consumer space, we want to do the same thing in industrial space. That's why Predix is an open platform with regulated participation." Predix has been developed as a common data layer that third-party supplier products can plug into.
Explaining his use of the term "regulated participation," Barzdukas said, "we go to market in partnership with third-party vendors." He added that announcements are forthcoming that will be highlighted by the appearance of "multiple business intelligence vendors' products on the Predix platform."
Within GE itself, Barzdukas noted that GE Digital is working closely with GE Automation and Controls to ensure all of the company's products work on Predix.
Much of the initial press around the Predix platform has focused on its cloud-based operations. But Barzdukas was quick to point out that Predix can operate at the edge, in the cloud or in hybrid applications.
Describing Predix's edge computing capabilities, Barzdukas noted that Predix Machine—a part of Predix that enables the development, deployment and management of applications on embedded hardware connected to physical machines—is "a software stack that can run edge analytics and manage data movement between the edge and the cloud. GE Digital also offers Edge Manager, a visualization tool that can be used to manage assets in any environment."
To highlight Edge Manager's capabilities beyond standard industrial production environments, Barzdukas pointed out that Schindler Elevators uses Edge Manager to manage and monitor its elevator installations around the world.
Explaining the growing necessity for hybrid edge/cloud capabilities in industry, Barzdukas used GE's own manufacturing assets as an example. "GE machines generate 350 terabytes of data an hour; eventually some of it has to go to the cloud for analysis."
Addressing cybersecurity concerns around the transmission and storage of such data in the cloud, Barzdukas said Predix currently uses public key encryption and is moving toward inclusion of private key capabilities for users who want it. Predix's public key encryption security operates in addition to the security provided by Amazon Web Services on which Predix's cloud functions run. Barzdukas added that Predix will also soon be running on Microsoft Azure.
App Creation
In November 2016, GE Digital announced its acquisition of BitStew, which has since been incorporated into the Predix platform to power Predix Studio—an app development engine that enables users to create the apps they need without the need for programming expertise. The term GE Digital uses to describe a user who lacks programming knowledge but can still develop applications with the help of technology is "citizen developer."
In a demonstration to illustrate how users can access asset status information, Mike Varney, vice president, product management at GE Digital, showed how GE Digital's Data Management Workbench, which is a component of Predix Studio, can be used to gather data to populate an asset status app. The Data Management Workbench shows available data sources on the network and, as those data sources are selected, it scans their data and presents the information in way that users can understand. It then goes a step further to make the connections between those data sources and validate them.
User can then see and understand how each data source is connected and the potential impact across the system from changes made to any one data source, said Varney. "The Data Management Workbench creates a model of the data—internal, external and disparate (such as data from multiple sources like weather information, operational data, GIS data, etc.)—for classification and relation. That information can then be brought into Predix Studio so that the citizen developer does not have to do all the mapping of the data."
Barzdukas added that GE Digital's acquisition of IQP in July of 2017 delivers a code-free application development environment that will bring drag-and-drop capabilities to Predix Studio to make working with the Data Management Workbench "more intuitive for the citizen developer."
Varney added that, in October 2017, GE Digital will release Predix App Engine, which runs on Predix Studio—which can be used to build dashboards or extend apps.
Marc-Thomas Schmidt, Predix Chief Architect at GE Digital, pointed out that digital twins will be a key data source used by apps created in Predix Studio because the digital twin holds the "past, present and future information about the asset."
Schmidt explained this by noting that a digital twin provides a contextual overview of all the collected data from an asset, i.e., its past; key performance indicators which give information about an asset's present state; and, via predictive capabilities, a glimpse into the asset's future.
Machine Learning
Artificial Intelligence (AI) will also play an important role in user experience for Predix in the not-too-distant future, according to Jeff Erhardt, CEO of Wise.io, who came to GE Digital via its acquisition of Wise.io last November, during the same time frame in which GE Digital acquired BitStew.
"AI should blend seamlessly into apps," said Erhardt, "That's why we focus on teaching computers to think like humans based on actions that have been taken in the past. That way we can mimic decision roles within an app."
Looking at what Erhardt calls the "value chain of intelligent systems," he notes four components: computing power, algorithms, unique data and domain expertise. Computing power and algorithms have long been the constraint in AI applications—algorithms, in particular, because of their complexity, he said. "But that's no longer the case because these technologies have been largely commoditized."
Echoing Eddie Amos' comments about the nexus of technology and domain expertise at the core of GE Digital's recently updated APM software suite, Erhardt pointed out that the commoditization of computing power and algorithms is now "bringing the interaction between data and expertise to the forefront of AI research and value creation. This is my area of focus for Predix."
As an illustration of this, Erhardt highlighted the work GE is doing with oil and gas industry "pigging," which refers to the industry practice of using devices known as "pigs" to perform various maintenance operations—including inspection—without stopping the flow of product in the pipeline. Using these "pigs," Erhardt said that GE has inspected a million miles of pipeline, but with all the data generated, it takes six months to create a report because humans still have to sort through all that data.
"People have to examine all this data to determine, for example, what's a weld and what's a crack," Erhardt said. "Their ability to do this is based on their domain expertise. By applying AI in the form of machine learning, based on how humans analyze the data, we can now generate these reports much faster—reducing the time to produce these reports from days to hours."
Explaining the role of Predix in this kind of application, Erhardt said that attempting to address this problem across industry is "unsolvable if you try to do it one customer at a time. But with the Predix platform, we can pull the signal out of the noise and create a workflow for these inspections. We can standardize and transfer embedded learning to similar applications across a company."
Erhardt noted that, though AI and machine learning are widely applied by companies across the technology spectrum, GE is focusing on industrial applications such as pipeline inspection because "we can see how this applies across our fleets of industrial assets. That is why GE is doing this and not Google."
Summarizing the myriad ongoing developments with Predix, Barzdukas said, "We're trying to democratize these tools. We want to standardize them and make them more accessible. That's why we're using many different open source technologies within Predix. It's an open environment that anyone can join."
Companies in this article