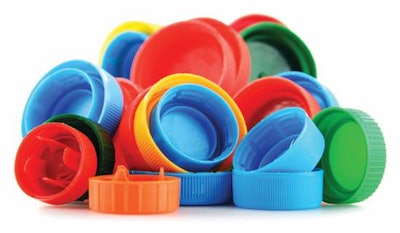 Colored pigments can alter the material behavior of the PET cap, specifically with the torque needed and the fit of the cap on the bottle. Light-weighting of caps further amplifies these differences.
The variances in caps affect production speed, as elements of the packaging machinery must be changed over whenever the manufacturer wants to change caps.
Packaging and production engineers at beverage companies believe this issue should be "engineered out," either through finding different dyes or developing a different cap production process. Engineers also believe their internal procurement units should demand material consistency in the purchase order. Packaging equipment and material providers concur that pigments alter cap properties, but see this as unavoidable, as pigments will always impact plastic properties. However, equipment providers claim they have developed new, adjustable equipment that adapts to different caps.
Adjustable chucks have flexible jaws that can accommodate many different sizes and knurl patterns (the pattern of vertical lines on the cap that provides a grip to the cap). The adjustable chucks target the most prevalent 28 and 38 mm closures (e.g., the caps used for 20oz. CSD or 16oz. water bottles). These adjustable chucks arrived on the market about 4-5 years ago.
"Caps should all have the same characteristics no matter what color. It should not change in size and chemical characteristics. This seems very manageable. We really have problems at high speed. Now all closure settings have to be changed on spindles on the capper," said one production engineer of a large beverage company.
For more details about this and other beverage trends and growth, download the FREE Executive Summary or the full report here.
Source: PMMI Business Intelligence, "Beverage Trends in Packaging and Processing Operations 2018."