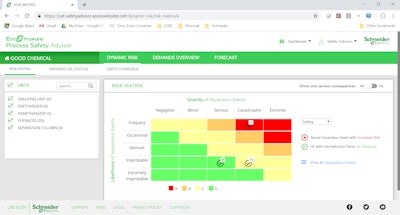 Safety has historically been and still is for many, an entity unto itself. Safety systems often have their own dedicated controllers and networks, intentionally kept separate from other industrial systems to ensure operational and personal safety.
Because of this separateness that characterizes the bulk of industrial safety technologies, safety is not a term often heard within the context of Industrial Internet of Things (IIoT) discussions. But when you look at safety from a data perspective, it's easy to see why it's well-suited for IIoT.
That's the direction from which Schneider Electric is approaching industrial safety with the release of its EcoStruxure Process Safety Advisor. The company describes Safety Advisor as "an IIoT-based digital process safety platform and service that enables customers to visualize and analyze real-time hazardous events and risks to their enterprise-wide assets, operations and business performance."
Built on Schneider Electric's EcoStruxure SIF Manager application for tracking and validating safety instrumented function (SIF) performance over the life of a plant, Safety Advisor is designed to provide "a single view into the health and status of the user's safety instrumented functions, which helps to identify potential risks and their impact on operations performance," according to Schneider Electric.
Safety Advisor begins its work by collecting, digitizing, and analyzing local data from existing safety and process control systems. With this information, Safety Advisor can provide contextual insight into past, present, and future operating risks based on real-time operating conditions. Next, Safety Advisor aggregates data from every site into EcoStruxure's secure cloud platform to create a dynamic view into enterprise-wide operating risks.
The technology also identifies the need to take corrective action and documents the entire process using an embedded SIF audit trail to support safety compliance.
Safety Advisor is "a non-invasive technology that does not require any change to your existing safety system," says Farshad Hendi, safety practice lead for the Americas and EURA for Schneider Electric, during a meeting at ARC Industry Forum 2019."This is about bringing transparency to data; it's beyond SCADA."
Considering the trepidation most safety engineers have about making changes to their safety systems, the "non-invasive" aspect of Safety Advisor will certainly be a critical selling point. Hendi also notes that Safety Advisor is a "vendor agnostic system that can work with any legacy system data source."
"Safety is a multi-disciplinary job," Hendi says, "and Safety Advisor is a good collaboration tool to connect the different disciplines." To clarify this point, he says that the interface for corporate users will show all of the assets in the enterprise for a high-level status review. Meanwhile, site managers, operations management, and maintenance engineers can drill down to the site level to perform root cause analysis, view automatic trip reports and trending, review safety device integrity and track maintenance.
Schneider Electric claims Safety Advisor is "the only technology of its kind currently on the market that can enable customers to understand their risks within minutes, and then act decisively to drive better business results."
"EcoStruxure Process Safety Advisor enables the industrial workforce to create a closed-loop safety model that validates actual performance against original design criteria," says Sven Grone, safety services practice leader, Schneider Electric. "Because they can now accurately predict when safety risks will exceed acceptable thresholds, they are better able to avoid incidents and reduce downtime, while improving the efficiency, reliability, and profitability of their operations. At the end of the day, Safety Advisor ramps up our customers' ability to run safely, comply with safety regulations, and drive measurable results to the bottom line."
Bringing IIoT into the safety arena is "not a bleeding edge discussion anymore," says Chris Stogner, of Schneider Electric's Triconex business unit. "[The technology] is here and it fits the strategic imperative."
He adds that Schneider Electric's approach to selling Safety Advisor on a pay-per-use model is "a more confident, mature and shared risk approach. Customers in the markets we serve are looking for a partner that can elevate their game year after year. That's changed how customers buy technology and we have aligned our model around that."
Companies in this article