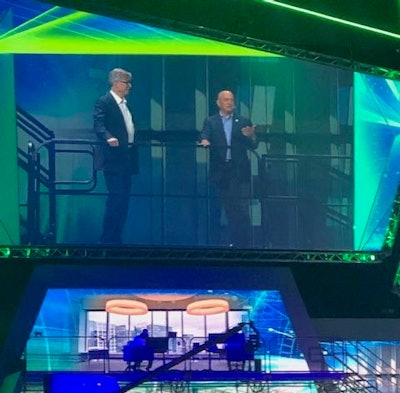 More than 6,500 people descended upon the Boston Convention & Exhibition Center this year to attend PTC's LiveWorx19 and learn how the technology supplier is building out its product portfolio, partnerships and industry services. Attendees heard and — with over 240 technical training sessions — learned a lot.
During the four-day conference, dubbed a "one-of-a-kind digital transformation event," PTC made a handful of announcements related to product lifecycle management (PLM), the Industrial Internet of Things (IIoT) and augmented reality (AR).
Specifically, PTC announced an upgrade to its ThingWorx Industrial IoT Platform, which the company acquired in 2013. ThingWorx 8.5, due out later this summer, combines domain-specific functionality aimed at simplifying the composition and deployment of applications through pre-built, pre-configured capabilities for engineering, manufacturing, and aftermarket service. That includes ThingWorx Navigate, a digital change management application that enables users to collaborate across the "digital thread" so that engineers will have real-time access to connected product data that can drive the design of next-generation products.
ThingWorx plays a big role in the partnership between PTC and industrial control supplier Rockwell Automation, which last year announced a $1 billion investment in PTC. Rockwell's manufacturing execution systems (MES) and analytics domain expertise are united with PTC's IIoT and AR through a new platform called FactoryTalk InnovationSuite, powered by PTC. By blending IT and operational technologies (OT), manufacturers can manage equipment performance in real time, maximize asset utilization through monitoring and diagnostics, and improve quality and safety on the plant floor.
In the expo hall at LiveWorx, Rockwell showcased examples of this, one of which is a safety application with AR in which the user can scan a code with a smart phone and visually see the safety zones to know how to navigate the plant floor. In addition, the configured zones can sense the person and stop a machine if they step into the red zone.
"The safety use case is one good example of Rockwell and PTC together where we might not have thought about adding that functionality [before], but it became a 'wow that would work' [moment]," said Paula Puess, market development manager for visualization and information software at Rockwell Automation. "Same with digital workforce instructions, MES instructions and more."
In addition to safety, which Rockwell refers to as "digital workforce productivity," the company showcased use cases for intelligent asset optimization, enterprise operational intelligence and scalable production management. These offerings are a result of a year's worth of work between Rockwell and PTC which have been aligning their organizations through training, product integration, and conversations with customers.
"It's been a phenomenal start to what we're doing together," said Blake Moret, Rockwell's chairman and CEO, who joined PTC president and CEO Jim Heppelmann on stage during the keynote. "We've already engaged in thousands of customer conversations that have resulted in dozens of early wins where customers have bet we can add productivity to their operations. We're seeing it in places like Ford Motor Company, where we are providing solutions with the combination of our technologies to help them save money and bring products to market faster."
Of course, Ford has a lot of automation equipment that is not from Rockwell, which Moret said he "feels good about," acknowledging that most projects are brownfield with a wide variety of intelligent devices installed from different suppliers. "The ability to simplify the collection of data and put it into an easy to understand common interface using ThingWorx and using our analytics is something the customer finds valuable."
Moret said that they have also been surprised by the interest manufacturers have in AR, noting that about 40 percent of the project wins include the technology. "And that's been a great, fortunate surprise for us as it fits the theme of combining technology innovation with expertise of people using features like Vuforia Expert Capture."
AR all around
Vuforia Expert Capture, another announcement this week — and the result of last year's acquisition of Waypoint Labs — is part of the PTC Vuforia Augmented Reality platform that allows experts to capture step-to-by-step instructions when doing their work using Microsoft HoloLens' location-aware capabilities enabled by Azure Spatial Anchor Services. Front-line workers can then leverage that information to be guided through procedures by digital content presented at relevant locations in the physical environment.
Other AR announcements included Vuforia Engine 8.3, a model-based AR enhanced through artificial intelligence (AI). In addition to providing intuitive AR user interactions, Vuforia Engine 8.3 harnesses the power of deep learning to provide advanced target recognition capabilities based on a 3D CAD model. AI-powered, model-based recognition enables a product or machine to be recognized from difficult angles and even in poor lighting, allowing faster and more accurate user experiences, PTC officials said.
Plus, PTC announced an AR acquisition and a partnership. The Boston-based company recently acquired Netherlands-based TWNKLS, which specialized in tailor-made AR applications and experiences as well as enterprise services to help companies solve specific challenges.
Separately, PTC announced it has invested in and partnered with Matterport, a company that offers immersive 3-D technology and spatial capture. While best known for its applications in real estate — providing virtual house tours — Matterport technology can also be applied to factories and other spaces, providing the ability to unify factory data and visualize and interact with a digital twin of the space.
"The work we did with Matterport, Vuforia and ThingWorx to create a 3-D digital twin of the factory space was initially created for a virtual tour of the factory, but that same work product drives AR experiences as well," Heppelmann said. "There's all the same real-time markups and dashboards created in the virtual tour pop up as the operator looks at it in AR."
This idea of "spatial AR" is the concept of superimposing computer-generated graphics onto real surfaces. So, for example, when driving, the traffic lights and signs could be a type of augmented visualization. "Imagine if all traffic signs were virtual but placed in the same locations in the space of the real world — but they are not actually there," Heppelmann explained. "But if you put on smart glasses and look out through the windshield, you see them as they were, maybe even they look identical to the real world. I want to do that in the industrial world and make it easy to decorate the industrial world with real-time information that workers need to be as safe and as productive as possible."
Additional announcements at the conference included enhancements to Windchill, PTC's PLM platform, which now includes integrated software management and systems engineering capabilities. This new functionality enables full product traceability and provides stakeholders with key insights throughout the product development and manufacturing cycles.
And the last announcement of the week was a strategic alliance with Vodafone Business, a telecom and technology service provider. The partnership, which builds on an existing three-year relationship, will allow customers to create end-to-end revenue-generating IoT and AR applications, which can improve the customer's experience, reduce the cost of operations, or enable a company to build better products and services, for example.
While there was a lot going on at this year's LiveWorx, everything PTC is working on is geared toward a successful digital transformation — from the 3-D CAD digital representation of a product to the digital thread found within the PLM system to IoT and analytics to how a human participates via AR and digital work processes. While PTC has a good foundation with its product portfolio and partnerships, there's a lot more to come as the company continues to invest in the PTC Reality Lab, which is researching the new, the uncharted, and the possible next technologies.
Companies in this article