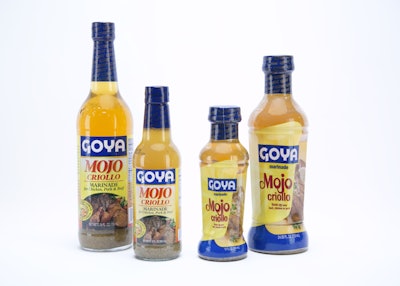 Goya Foods Inc., based in Secaucus, NJ, the largest Hispanic-owned food company in the U.S. and a leader in the Latin American food and condiments industries, has undertaken a major redesign of its marinade product line, converting 12-oz (355-mL) and 24.5-oz (725-mL) products from glass to lightweight PET bottles from Amcor Rigid Plastics.
The custom-designed hot-fill containers, which also feature a newly designed shrink-wrap label, boast an iconic shape that is highly attractive. The vibrant design was developed to promote a clean look that is both modern and elegant. According to Amcor, the hot-fill bottle delivers significant performance and cost advantages including portability, reduced breakage, and a light weight, along with sustainability benefits such as recyclability, reduced transportation costs, and a significantly reduced carbon footprint.
With the new PET bottle design, Goya also offers consumers more marinade product by moving from a 705-mL glass container to the 725-mL PET bottle. Consumers are drawn to the attractive and lightweight features of the PET bottles, which are said to be easier to grip than traditional glass containers.
The use of PET in the 24.5-oz container results in a reduction in greenhouse gas (GHG) emissions of 61.4% compared to glass, representing savings equivalent to annual GHG emissions from 313 passenger vehicles, according to Amcor. In addition, 24.5-oz PET bottles permit 52% more product to be shipped per truckload.
"In the end, lightweight PET not only delivered a major savings in terms of freight cost, but also gave us the glass-like appearance and the shelf appeal to maintain our brand image," explains Joseph Perez, senior vice president of Goya Foods.
Both PET bottles are the first to feature Amcor's new Origami™ hot-fill technology, which incorporates six flat panels to counteract the vacuum that occurs in hot-filled containers. The vacuum panels are designed to collapse, thus compensating for shrinkage during cooling to maintain structural strength and integrity. The flat surfaces create a modern, elegant profile, which enhances gripping and consumer handling. A predominant neck adds to the bottles' uniqueness and improves pourability, says Amcor.
Both the 12- and 24.5-oz PET bottles are custom-designed for both ambient fill (up to 140°F) and hot-fill (up to 185°F) applications. They have a 38-mm finish and have been seamlessly integrated into existing glass filling lines with minimal adjustment, according to Perez.
The Goya marinade products, available in Chipotle, Mojo, and Naranja Agria varieties, are sold in supermarkets and club stores in the U.S., Puerto Rico, and the Dominican Republic.
Goya Foods also plans to replace glass with PET in an existing 12-oz juice beverage line. The conversion to hot-fill PET is expected by the summer, according to Perez.
Companies in this article