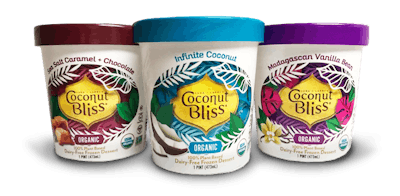 Coconut Bliss has finally found eco-friendly packaging that aligns with its brand DNA. The Eugene, Oregon-based maker of organic, plant-based frozen desserts recently debuted its new pint packaging, which features paperboard lined with a plant-based polymer resin — a renewable package that reinforces its commitment to sustainability.
Coconut Bliss takes prides in offering minimally processed and ethically produced vegan ice creams, ice cream bars and cookie sandwiches. But its previous packaging didn't live up to the company's sustainable values. While Coconut Bliss did use recycled paperboard for its pint ice creams, it was lined with traditional petroleum-based PE resin. As a result, the package did not break down completely in landfills. (Most ice cream pint packaging is not recyclable because it is made of wet-strength paperboard, which prevents the pulping process from occurring in recycling.)
"All of our ingredients are 100 percent organic and non-GMO. We take a lot of care in sourcing our ingredients so that they are the highest quality. They are ethically sourced and sustainable," says Darcey Howard, director of marketing at Coconut Bliss. "And so, it was really difficult for us to put all this care into such sustainable ingredients and making a product that we felt was incredibly good for people and for the Earth, but then we had to put it into packaging that was not good for the Earth because it has that petroleum-based resin. We knew that eventually we would want to switch to something that was much more sustainable."
As part of its year-long rebranding project, Coconut Bliss worked with its converter, Stanpac, to look for a more eco-friendly coating for its pint packaging that functioned just as well as fossil fuel-based resin. Stanpac collaborated with Evergreen Packaging, a developer of plant-based packaging solutions, and Braskem, a producer of thermoplastic resins and polypropylenes, to create bio-based packaging for Coconut Bliss' vegan ice cream pints. The cup and lid are made from Evergreen's Sentinel Fully Renewable Ice Cream Board extruded with Braskem's I'm green PE, an ethanol coating derived from sugarcane.
Coconut Bliss has yet to calculate how much it has reduced its environmental footprint by switching to the new pint packaging. But the company says the package is made up of 97 percent bio-based renewable resources and is sustainably manufactured, which will allow the packaging to break down in landfills completely. More than 99 percent of the Sentinel paperboard comes from trees in forests where responsible forestry practices are used. Evergreen sources wood fiber responsibly by maintaining three forestry certifications and conducting annual third-party audits. And more than half the energy that fuels Evergreen's manufacturing process is from biomass, a renewable energy.
The I'm green PE is also sustainably sourced and manufactured, according to Braskem. During the growth of the sugarcane and production of the PE, carbon dioxide is captured from the environment, helping to reduce greenhouse gas emissions. In addition, Braskem says that its suppliers must meet Braskem's own principles of sustainable development that cover areas such as respect for biodiversity and good environmental practices.
Coconut Bliss debuted its new packaging at the Natural Products Expo West trade show in March. The company says that if more ice cream manufacturers begin using renewable packaging, it will not only help reduce the cost of the packaging in the future but also protect the planet.
"At this point in time, we are the only ice cream brand that is currently using this packaging. We're hoping that other ice cream brands will come on board and make this much more widely available and, obviously, more cost effective," Howard says
"Many boats raise the tide," she adds. "The more brands that take on a sustainable biopolymer lining for their ice cream, it creates a bigger conversation about sustainability and more unity around sustainability within the ice cream industry itself, which is a very competitive space."
Companies in this article