Compared to the food market with sales of C$102.5 billion, the Canadian beverage market is relatively small with less than C$13 billion in sales (about US$10 billion). According to "The Market for Packaging Machinery in Canada 2018" by PMMI Business Intelligence, beer is the largest category, and soft drinks the second largest. While the beer market continues to grow, soft drink growth has slowed.
Metal cans are the most common type of containers, with unit volume and market share growth. Rigid plastic is the second most common container type, having surpassed glass in 2016. All other types of liquid containers have decreasing unit volumes, according to Euromonitor. The industry—particularly breweries—is also a heavy user of paper cartons, although volumes and value have steadily decreased.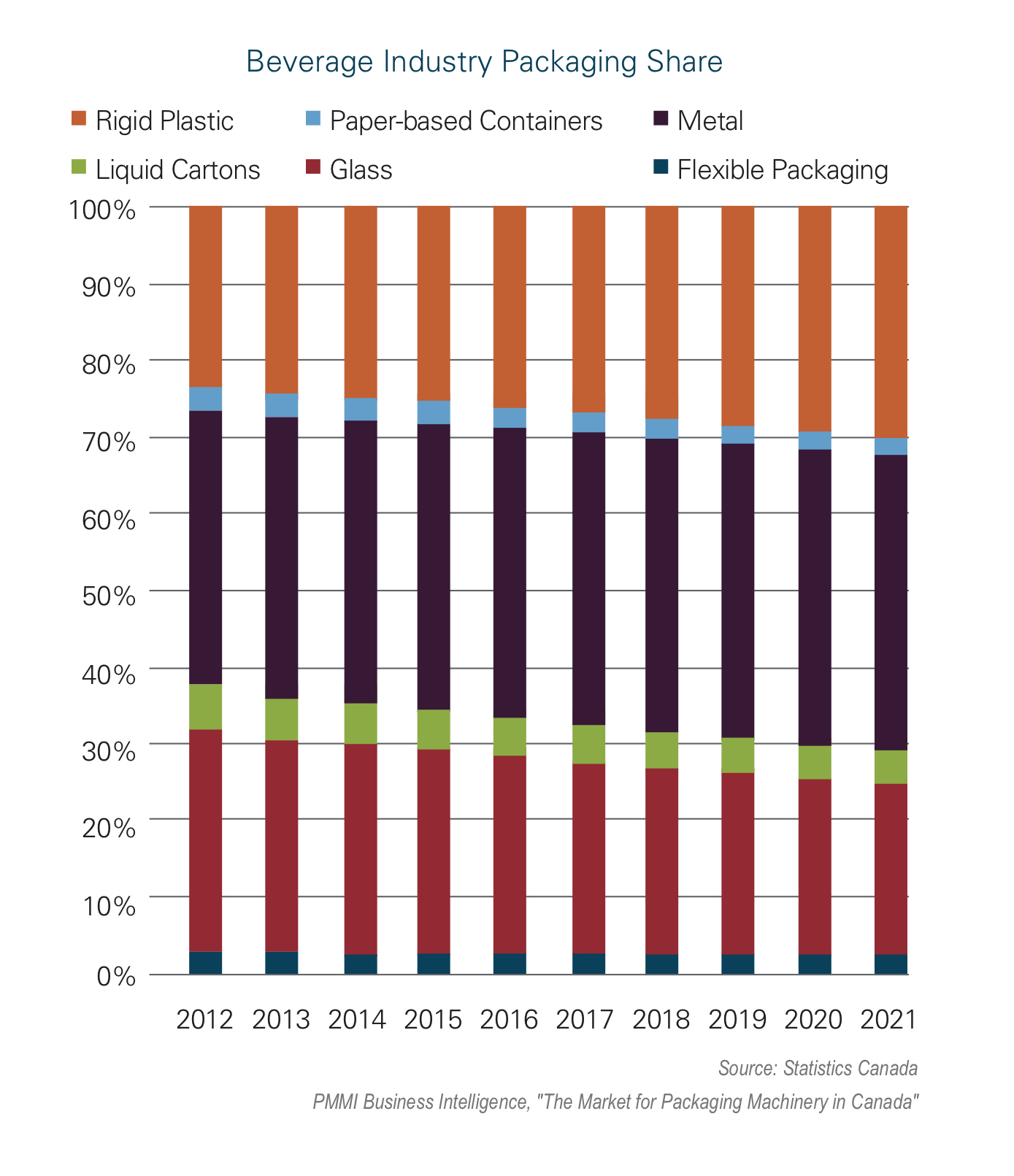 Nearly two-thirds of all beverage shipments are from Pepsi, Coca Cola, Molson Coors and AB InBev, and more than two-thirds of the approximately 1,750 facilities are in Ontario and British Columbia, and another 14% in Quebec.
Canada, much like the US, has trends in the beverage industry such as demand for smaller sizes, more options, and variety. Because of these changes to type and size of packaging, coupled with decent growth, capital investment should continue to be strong. Investment in machinery and equipment has grown by 5% each year since 2014, and while beverage companies expected overall capital spending to decrease in 2018, recent history indicates investments in machinery and equipment will continue.
Download the FREE executive summary of this report below. PMMI Members can download the entire report for free here.
Source: PMMI Business Intelligence, "The Market for Packaging Machinery in Canada 2018"
Join 7,000 professionals of food and beverage processing markets, including beverage machinery and equipment, at ProFood Tech, March 26-28 in Chicago. See machinery, automation and controls and solutions in action from 450 top manufacturers.