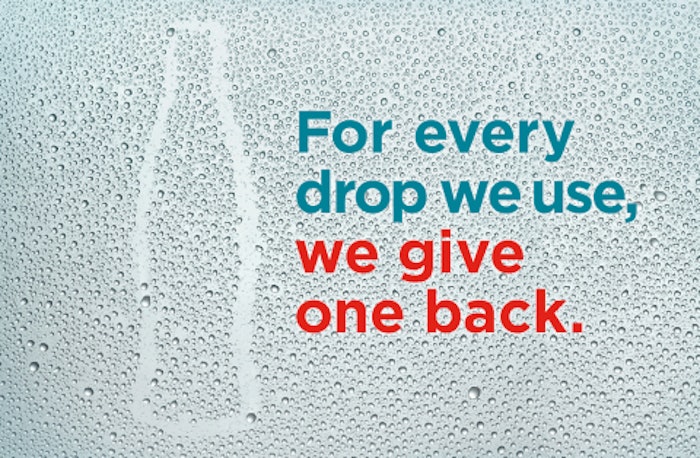 The Coca-Cola Company and its global bottling partners (the Coca-Cola system) have met their goal to replenish, or in other words balance, the equivalent amount of water used in their global sales volume back to nature and communities.
The Coca-Cola system also announced progress against its water efficiency goal. The company and its bottling partners improved water use efficiency by 2.5 percent from 2014 to 2015, adding to a cumulative 27 percent improvement since 2004.
Based on a global water use assessment validated by LimnoTech and Deloitte, and conducted in association with The Nature Conservancy (TNC), the Coca-Cola system returned an estimated 191.9 billion liters of water to nature and communities in 2015 through community water projects, equaling the equivalent of 115 percent of the water used in Coca-Cola's beverages last year.
The Coca-Cola system has achieved its water replenishment goals through 248 community water partnership projects in 71 countries focused on safe water access, watershed protection and water for productive use. In many cases, projects also provide access to sanitation and education, help improve local livelihoods, assist communities with adapting to climate change, improve water quality, enhance biodiversity, engage on policy and build awareness on water issues. The program aspects mentioned in the preceding sentence do not contribute to Coca-Cola's replenish volume.
Replenish performance is independently reviewed by LimnoTech and verified by Deloitte.
Coca-Cola's replenishment strategy supports the company's overall water goal to safely return to communities and nature an amount of water equal to what is used in its beverages and their production. On the production side, the Coca-Cola system returned approximately 145.8 billion liters of water used in its manufacturing processes back to local watersheds near its bottling plants through treated wastewater in 2015.
To learn more about Coca-Cola's water stewardship program, visit the company's water stewardship report.