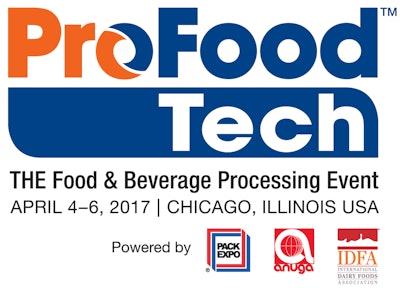 Thanks to a cooperation agreement with the event organizers, registration for the inaugural ProFood Tech (April 4–6, 2017) also includes admission to both the ProMat and Automate events being held April 3–6 at McCormick Place, Chicago.
ProFood Tech is the most comprehensive food and beverage show in North America, transcending market sectors and showcasing cutting-edge technologies and innovative solutions. It will include 6,000 processing professionals, 400-plus of the world's top suppliers, 150,000 net square feet of exhibit floor and 45 hours of blockbuster educational programming. The show will be held in the Lakeside Center of McCormick Place.
The ProMat and Automate events are located nearby in the North and South Halls of McCormick Place. ProMat is sponsored by MHI, an international trade association representing the material handling and logistics industry. ProMat is North and South America's premier material handling expo focusing on manufacturing and supply chain solutions and attracts over 40,000 attendees. ProMat offers over 900 exhibits and over 100 complimentary educational sessions. ProMat and Automate 2017 will total over 1,200 exhibits.
Automate is North America's largest automation show, organized by the Association for Advancing Automation (A3), it showcases innovations and technologies in automation (including robotics, vision & imaging, motion control, metrology and more) and attracts over 20,000 attendees.
The agreement between ProFood Tech, ProMat and Automate, allows attendees to gain access to all three events, providing perspective on the entire supply chain for food and beverage processing, as well as best practices from other industries.
"The agreement with ProMat and Automate opens up new opportunities for attendees to learn about critical solutions for food and beverage processors in the material handling and automation areas, providing significant benefits for attendees," says Jim Pittas, senior vice president, PMMI.
ProMat and Automate attendees will also gain complimentary access to ProFood Tech. "With many of our attendees coming from the food and beverage sector, we are excited to offer this opportunity for them to experience solutions for the processing side of their operations in one location," says Tom Carbott, senior vice president of Exhibitions, MHI.
"Automate is very excited to continue our partnership with ProMat and now PMMI, IDFA and Anuga with the launch of ProFood Tech. The combination of all three shows at McCormick Place at the same time is an incredibly effective way for attendees to maximize one trip to Chicago," said Jeff Burnstein, president of the A3 and its Robotic Industries Association (RIA), AIA – its vision and imaging group and Motion Control & Motor Association (MCMA).
Registration for ProFood Tech is $30 until March 17 when the price increases to $100. Register online at profoodtech.com. Attendees wanting to attend ProMat and Automate simply visit a registration counter on-site at McCormick Place to complete a short registration form in order to receive their complimentary badge.