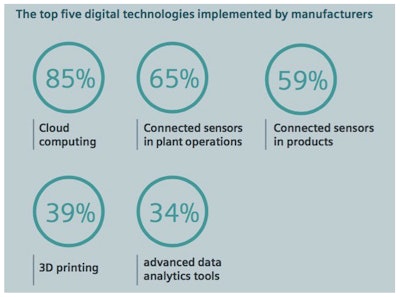 Whether it's referred to as the Industrial Internet of Things (IIoT), Industry 4.0 or the Fourth Industrial Revolution, the future of manufacturing will clearly be digital. Though most industrial companies are in agreement that their automation technologies will become increasingly connected and digital in nature, there are significant disparities in terms of readiness for this change and progress toward implementing it.
To gain a better understanding of the current state of industry as it relates to this, Siemens conducted a study with Longitude Research of more than 200 senior executives and directors of large U.S. discrete and process manufacturers. Topics addressed in the research include trends in digitalization, examples of successful adaptation and suggestions to overcome the barriers to moving forward.
In addition to the survey data, Siemens also provides access to a benchmarking tool to help track your progress toward the digitalized future of manufacturing.
Access the survey and benchmarking tool here: https://www.siemens.com/us/en/home/company/topic-areas/digitalization.html#Benchmarkingsurveytool
Companies in this article