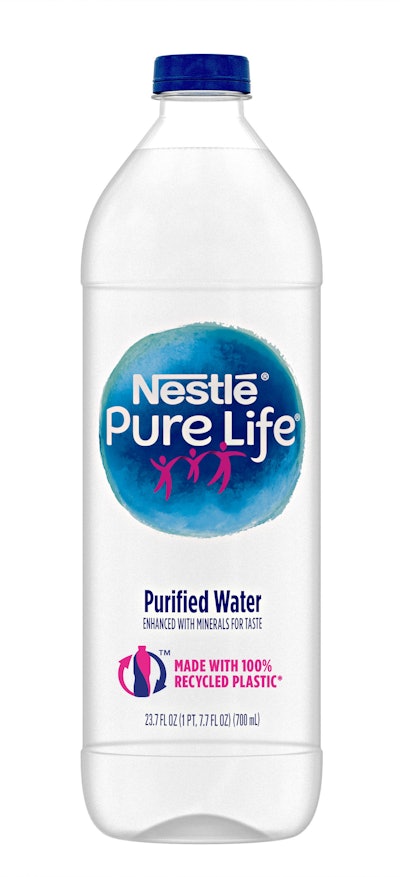 Nestlé Pure Life Purified Water introduced a 700-mL bottle made from 100 percent food-grade recycled plastic, known as rPET. It excludes the label and cap, which are recyclable, but are not made from rPET.
"Environmental sustainability is an integral part of our company's purpose and heritage," says Antonio Sciuto, executive vice president and chief marketing officer for Nestlé Waters North America. "This new bottle made from 100 percent recycled plastic for our namesake brand is the latest way we're satisfying consumer demand for healthy hydration on thego and inspiring consumers to recycle."
The new Nestlé Pure Life bottles feature a modern design, along with the new branding launched last year under the banner of "Pure Life Begins Now" that aims to elevate the importance of quality water in people's lives. The company says that the launch of a bottle made entirely from recycled plastic reinforces the brand's goal: to inspire a healthier and brighter future that starts with water.
The Nestlé Pure Life 700 mL bottle is featured in a short video from the company highlighting its use of recycled materials and encouraging consumers to recycle the bottle so that it can be made into a new one. The video can be found on the brand's social media channels and website.
The product can be purchased at grocery, mass and convenience stores in North America.
Since 2005, the company has reduced the amount of PET plastic in Nestlé Pure Life half-liter bottles by 40 percent. Today, the introduction of Nestlé Pure Life rPET bottles to consumers nationwide complements its efforts to inspire and make it easier for consumers to recycle, building on last year's move to begin adding How2Recycle information on the labels of its major U.S. bottled-water brands. These labels include a reminder for consumers to empty the bottle and replace the cap on the bottle before recycling.

To date, Nestlé has undertaken many initiatives to reduce waste and reuse materials in packaging across its portfolio of beverages:
Current use of recycled plastic: Today, 100 percent of its single-serve bottles of Arrowhead Brand Mountain Spring Water and Nestlé Pure Life Purified Water produced in California are made with 50 percent recycled plastic. To accomplish this, Nestlé works with a number of strategic suppliers, including CarbonLITE, one of the largest producers of food-grade, post-consumer recycled PET. The company is also expanding its roster of suppliers to purchase even more recycled plastic, which it plans to use in its other bottled-water brands across the country.
Investments and collaborations to promote environmental sustainability: Through global alliances with nonprofits such as the Trash Free Seas Alliance, founding of the bio-PET NaturALL Bottle Alliance, and investments in large-scale organizations like Closed Loop Fund, Keep America Beautiful and start-ups like RecycleUp, Nestlé Waters is collaborating with stakeholders across the PET value chain to create solutions to one of the world's most pressing environmental issues.
For more information about Nestlé Pure Life, visit https://www.nestlepurelife.com/us/en.
For more information about Nestlé Waters North America's sustainability efforts, visit https://www.nestle-watersna.com/en/planet.