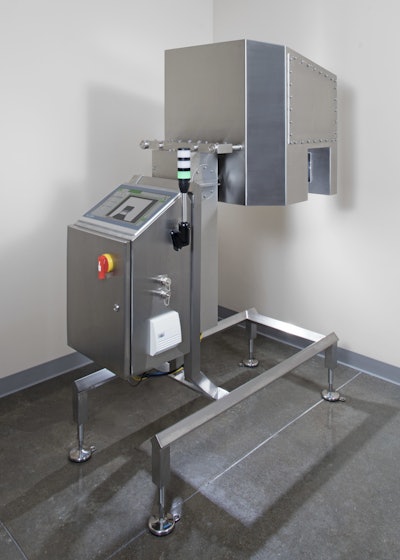 Acquire Automation debuted its new Q Series CapQ vision inspection system at PACK EXPO 2018, highlighting artificial intelligence as key to the system's 360-degree inspection of caps and tamper bands for filled rigid products in the beverage and consumer goods markets.
The CapQ system inspects for cap height, cap skew, and raised or missing cap as well as the integrity of the tamper-evident band. It uses artificial intelligence so the system has the ability to ignore water droplets and plastic fragment shedding that can skew measurement results, leading to false rejects.
The system produces reports and audit data that support accurate ongoing and year-end production records and inventories. It also provides useful data for the user's continuous improvement program.
The CapQ offers quick and easy integration into existing production lines. Housed in stainless steel Nema 4X/IP65 enclosure, the unit fits over an existing conveyor and has recipe-driven automatic height adjustability. The CapQ system inspects caps up to 38 mm in size on bottles up to a maximum height of 330 mm.
Acquire also offers various options for the CapQ system, including a height-adjustable main system enclosure, automatic camera and light adjustments as target packages change over and a high-speed reject system. Additional cameras can be included, such as two tamper-evident band cameras, and fill defects can be tracked to the individual upstream filler-capper for corrective action, preventing waste as low-fill bottles are discarded.
The system operates on 110-120 VAC 50/60Hz and single-phase power and includes Ethernet communication capability.
Companies in this article