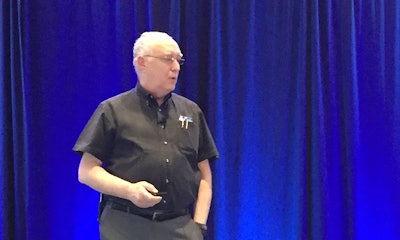 As a trade magazine focused on automation technologies in manufacturing, we have a tendency to zero in on the benefits of this technology or that. It pays to remember, however, that the relationship between supplier and end user can be at least as vital as the products themselves. For a tier-one automotive supplier trying to reduce the cost of its machine controls by 25 percent, the partnership formed with its automation vendor made all the difference in the world.
"We needed to form a partnership," said Bill Taylor, controls engineering supervisor at BWI Group, which makes brake and suspension systems for the global transportation industry. "If we were going to reduce our costs by 25 percent, we needed to partner with automation suppliers so we could succeed together. Because there's no way you could do this by yourself."
BWI might not be a household name itself, but with a bevy of companies—Audi, GMC, Harley-Davidson, Land Rover, Peugeot, Honda, Volvo, and on and on—counted among its customers, it's certainly a well-known name in transportation. It has manufacturing facilities all over the globe, including several parts of China, Poland, UK, Czech Republic and Mexico.
To expand its production and also get closer to customers in North America, BWI began construction of a new facility in Greenfield, Ind., beginning in late 2017, Taylor noted during a presentation at this week's Automation World Conference in Chicago. It was with that expansion that Taylor and his team (in charge of designing and maintaining the control systems for all the company's facilities) were tasked with reducing machine costs. They needed to increase automation, improve efficiencies and simplify operations.
However, BWI was facing a lot of interoperability challenges and problems with equipment. To make matters worse, they were not getting the support they needed from their existing automation supplier. "The technology was there, but we had limited success with support from our current automation supplier," Taylor said. The software associated with the technology was OK, he added, but it was expensive and had bugs.
After evaluating all the major automation suppliers, BWI chose Siemens, which was the No. 1 supplier globally. Having a global supplier was beneficial, Taylor said, to serve BWI's own global footprint. The hardware was 31-40 percent less expensive, the software was less than half the cost of the current supplier, and there was better access to training. "The real key, though, was the support," he said. "We got much better responsiveness from the local distributor [C&E Sales] than the current supplier. It really makes a difference."
Taylor described what he called his Tale of Two Vendors. In the first case, BWI's control engineers struggled to connect machines together on a line without causing the network to crash. They spent hours downloading and digging through manuals and reconfiguring networked components with no success. Getting access to the technical notes they needed required an additional technical support contract of about $200,000 per year. Taylor and his team ultimately accepted defeat. "We unplugged the network cables and said we couldn't do it," he said.
Then they met with people from Siemens for an entirely different experience. A machine builder in Poland was having trouble getting real-time data from the transducers on a reservoir tube seam welder they'd built to the Siemens S7-1500 PLC. The goal was to display an X-Y scatterplot of force vs. displacement on the Siemens TP1200 HMI. Before flying out to Poland himself to meet with the machine builder, Taylor called Jeff Weaver at C&E Sales, who pointed him to a Siemens whitepaper and other information to help solve the problem. Upon arrival, Taylor found that the machine builder's control engineer had successfully configured the scatterplot on the HMI, but was still having communication issues between high-speed modules and the PLC. Another call to C&E and the problem was solved.
"The problem was solved with two quick phone calls. And it cost me nothing," Taylor said. He's been impressed with how Siemens and its local distributor stand behind them 100 percent. "We've reduced the cost, improved performance, and have had very good results from forming a partnership with Siemens Automation."
Partnership with IT
The importance of a good partner doesn't stop with the automation supplier, Taylor noted. BWI is building increased connectivity throughout its plants, and this activity makes other partnerships even more important. "We're building the foundation in all of our new plants and some of our existing plants to get to that Industry 4.0 goal," he said. "One of the important factors I've learned is, early on, you have to form a good partnership with IT. You have to get people involved. Get the stakeholders in the factories involved early. Let them be part of the team. Encourage them to participate. You'll have a lot better chance of success."
Industry has shifted from the components to the network being the linchpin for success. "Engineering and IT have to work hand in hand to make this work," Taylor said. "Now we're putting a complete network on the plant floor. It is the foundation—the basic structure for all of this to work."
Companies in this article